Prominent ALS researcher at Umeå University named Wallenberg Clinical Scholar
NEWS Peter Andersen, Professor of Neurology at the Faculty of Medicine and senior clinical neurologist at the University hospital of Umeå, has received SEK 15 million in funding from the Wallenberg Clinical Scholars program to find a treatment that inhibits the deadly course of events in ALS. He is one of four nationwide clinical researchers to become Wallenberg Clinical Scholars, a new initiative from The Knut and Alice Wallenberg foundation to promote clinical medical research.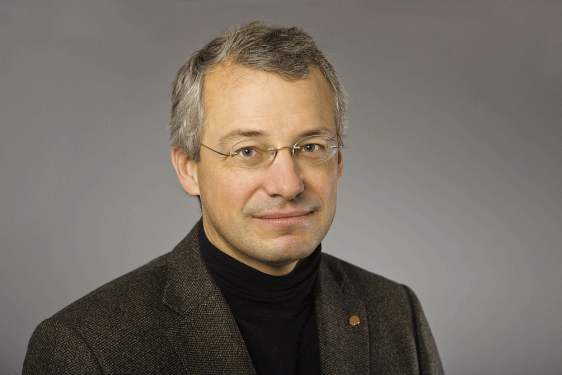 According to the Knut and Alice Wallenberg Foundation, the aim of the programme is to strengthen Swedish clinical research by means of identifying the best clinical researchers, providing them with optimal conditions for five years to undertake their work, and facilitate the impact of research results in the scientific and healthcare communities. The programme was launched in 2014. Following both national and international peer-review, and interviews at the Swedish Royal Academy of Science (KVA), the first four Wallenberg Clinical Scholars have now been announced – all of them are researchers ranked among the very best in the world in their respective fields.
Peter Andersen has since 1992 been performing ALS research, with a focus on the aetiology of the ALS syndrome. The ALS consortium in Umeå has expanded over the years, and is one of the most productive worldwide. The consortium has made several critical discoveries. One of the major discoveries in the past few years is that specific misfolded species of the SOD1 protein form aggregates in nerve cells in patients with ALS. The group has characterised these aggregates and developed specific panels of antibodies that can detect them. The expectation is that such anti-SOD1 antibodies in the future can be used for treating ALS.
"It is very gratifying to receive this research funding. To me, as a neuro researcher, it's huge. ALS is a deadly disease and so far we don't have a cure. The funding gives me the possibility to increase the speed in the ongoing research projects, but also the freedom to broaden the research by starting new projects within the field", says Peter Andersen.
Lena Gustafsson, Vice-Chancellor of Umeå University, thinks that the programme emphasises Peter Andersen's and his Umeå University colleague's leading position in the ALS research field, and that their contribution to the field opens up new possibilities to develop treatments.
"This is a sign of successful medical research at Umeå University. Peter Andersen being one of the first researchers to receive funding from this newly instituted programme from the Knut and Alice Wallenberg Foundation is very gratifying. I warmly congratulate Peter and his colleagues, but also Umeå University. This commitment from the foundation points out the high quality of Peter's research and boosts the possibilities of increasing the efforts to identify the mechanisms behind ALS", says Lena Gustafsson.
The Knut and Alice Wallenberg Foundation is investing almost SEK 600 million over a ten-year period in the research programme Wallenberg Clinical Scholars. The first researchers to receive funding – besides Peter Andersen – are Anna Wedell, Karolinska Institutet, and David Erlinge and Martin L Olsson, both at Lund University. Wallenberg Clinical Scholars is part of a ten-year initiative amounting to a total of SEK 1.7 billion, undertaken by the Knut and Alice Wallenberg Foundation to strengthen medical research and the life sciences.
"Swedish clinical research does not have the same high international impact it once used to have. In order to turn this situation around, we need to invest in the best clinical researchers. Clinical research constitutes an important link between basic research and patient-oriented, clinical, activities. Clinicians initiate new research questions grounded in everyday clinical practice and ensure that new scientific knowledge is promptly implemented in healthcare", says Peter Wallenberg Jr, Chairman of the Knut and Alice Wallenberg Foundation.
For more information, please contact:
Peter M AndersenProfessor of Neurology and consultant in neurology, Umeå UniversityPhone: +46 90 785 23 72, +46 70 647 69 13
Email: peter.andersen@umu.se
More about the other Wallenberg Clinical Scholars grantees
Anna Wedell, Senior Physician and Professor of Medical Genetics at Karolinska Institutet. Approximately one in every two thousand children is born with a metabolic disorder, which often leads to brain damage. Wedell has identified the molecular foundations for several of these diseases.
David Erlinge, Senior Physician and Professor of Cardiology at Lund University, strives to prevent heart attacks and reduce mortality rates. Among other things, Erlinge maps molecular mechanisms behind arteriosclerosis. He will also study new innovate treatments that can prevent heart attacks and reduce mortality rates.
Martin L Olsson, Senior Physician and Professor of Transfusion Medicine at Lund University, will continue his research into blood types. Olsson will also investigate how different viruses, bacteria, and parasites, such as HIV and malaria, use blood type molecules to infect the blood.
The programme will provide funding for 25 of the country's foremost clinical researchers and will run for ten years. The estimated value of the initiative is SEK 600 million and each grantee receives SEK 15 million over a five-year period, with a possible extension for another five years.
Editor: Andrea Gillgren