See the chemistry at Bildmuseet
NEWS On 19 February, the Department of Chemistry at Umeå University inaugurates the International Year of Chemistry 2011 with an exhibition at Bildmuseet museum. The research is visualised with fascinating images of bacteria, snowflakes, proteins, and more.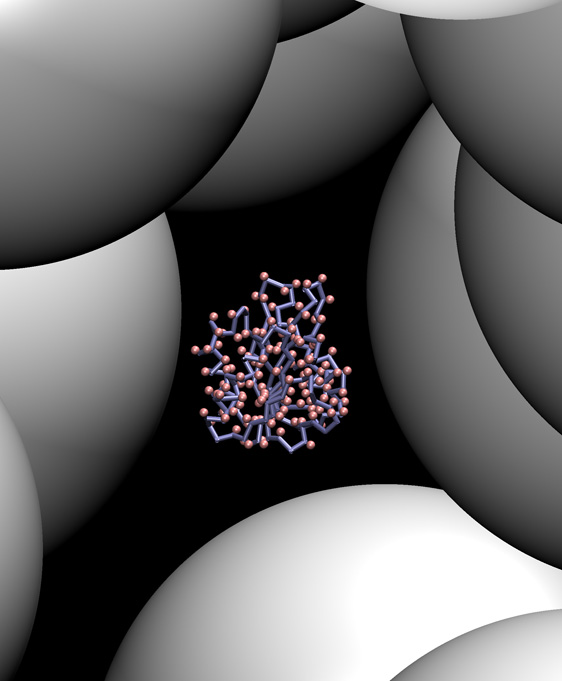 Nature and life's smallest building blocks often form beautiful patterns. The images are also an important tool in chemical research to understand the world around us. The exhibition SE KEMI! (English: See chemistry!) shows current chemical research at Umeå University in a different way. The images illustrate new ways to disarm bacteria, how environmental toxins are transported in our nature, new materials with interesting properties and the small workhorses in our bodies – proteins. This knowledge gives us for example tools to eventually be able to treat diseases such as ALS, to find solutions for a cleaner environment and to produce many new products.
The exhibition also shows a close up of a snowflake which opens our eyes to nature's regularity and beauty. The photographer is the American physicist Kenneth Libbrecht, who last year won the Lennart Nilsson Award - the world's most prestigious distinction in scientific and medical photography.
The International Year of Chemistry 2011 is a worldwide celebration of the achievements of chemistry and its contributions to the well-being of humankind, initiated by the United Nations. In Umeå the International Year of Chemistry will be inaugurated with the exhibition SE KEMI! at Bildmuseet. This is one of several activities organised by the Department of Chemistry at Umeå University during the year.
The exhibition will run from 19 February until 25 April, 2011. During the same period, Bildmuseet presents the exhibition Miraculous Beginnings, the first major Swedish exhibition of US-Lebanese artist, Walid Raad.
Press preview and opening
Press preview: Thursday 17 February at 10.00Opening: Saturday 19 February at 13.00
The exhibition will run until 25 April 2011.
For further information, please contact:
Åsa Nilsson Lindgren, project manager for The International Year of Chemistry 2011 at Umeå UniversityDepartment of Chemistry, Umeå UniversityPhone: +46 (0)90-786 99 39 Mobile phone: +46 (0)73-6205004
E-mail: ann@chem.umu.se
www.chemistry.umu.se/kemins-ar-2011http://www.chemistry2011.org
Brita Täljedal, BildmuseetPhone: +46 (0)90-786 77 14
E-mail: brita.taljedal bildmuseet.umu.se
www.bildmuseet.umu.se
Editor: Karin Wikman