Published: 15 May, 2017
Seoljong Kim is Global Swede 2017
NEWS Seoljong Kim, student of Master's programme in Plant and Forest Biotechnology, is Umeå University's Global Swede for 2017. The annual recognition of Global Swede is a joint initiative by the Ministry of Foreign Affairs, and the Swedish Institute. This is the seventh year this recognition is awarded.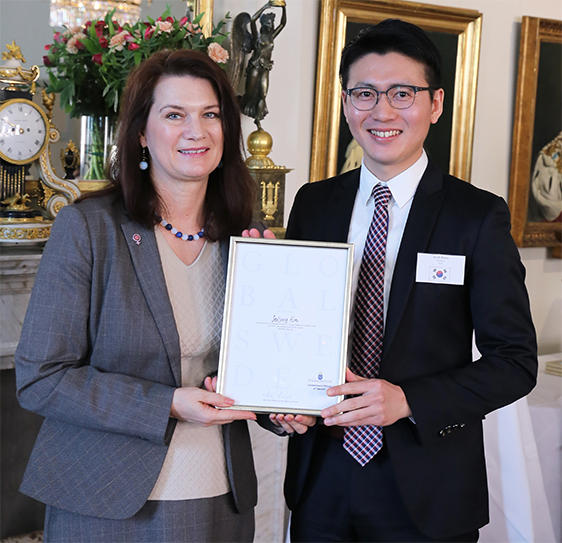 Seoljong Kim, from South Korea is in his final term of Master's programme in Plant and Forest Biotechnology. He was selected for this recognition after distinguishing himself during his studies.
 "One quality sets him apart from other top students: his curiosity towards peculiar, hidden subjects in plant biology. This is best illustrated by his selection of master thesis work to study edible orchids in Zambia. He unearthed the topic for himself, approached the group working on the field, designed the thesis project, conducted the work in Africa and done the lab work back in Sweden. To organise the whole project required enthusiasm, lots of time, effort and a strong drive that he has", says programme director Laszlo Bako
"It is my highest honour to be selected and awarded the Global Swede", says Seoljong "and I am humbled and grateful to Umeå University for affording me all the opportunities. Thanks to the warm welcoming and constant care through the terms, I now feel like Sweden is almost my home".
Seoljong was presented with a diploma 10 May by the Minister for Trade Ann Linde at a ceremony at the Arvfurstens Palace at the Ministry of Foreign Affairs.
Accompanying Seoljong at the ceremony from Umeå University was Staffan Andersson, Pro-Dean of the Faculty of Science and Technology.
"I am delighted that we were able to nurture Seoljongs interests and drives and congratulate him on achieving this recognition".
Contact:Seoljong Kim
E-mail: seoljong.kim@gmail.com
Greg Neely, Head of International OfficePhone: 090–786 97 52
E-mail: greg.neely@umu.se
Editor: Mattias Grundström Mitz