The Danish Research Foundation honours Gunnar Öquist
NEWS Gunnar Öquist, Professor Emeritus in Plant Physiology at Umeå University, was honoured by the Danish National Research Foundation with the Royal Order of the Danneborg.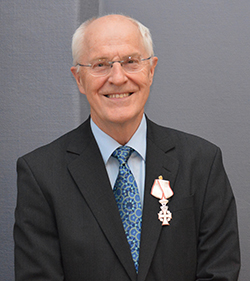 He received the Order of Knight for his "invaluable contribution to Danish and international research including the Danish National Research Foundation", the foundation stated in a press release on December 4th.
Gunnar Öquist has contributed to the first evaluation of the Danish National Research Foundation in 2003 and accepted in 2005 to become a member of the Board, where he during eight years played a central role in the success of the research foundation's activity.
The research foundation credited Gunnar Öquist's extensive knowledge which involved him in research evaluations worldwide. Gunnar Öquist is one of the main authors of the important Swedish report Fostering breakthrough research: A comparative study, which highlights Danish elite research as a success story.
Photo: Danish National Research Foundation
Read more:
Press release of the Danish National Research Foundation
Editor: Ingrid Söderbergh