Twelve researchers were granted Arcum strategic funds
NEWS Now Arcum's call of applications for strategic funding is over for the spring term of 2020. We are happy to announce that all twelve applicants where granted funds of varying degrees.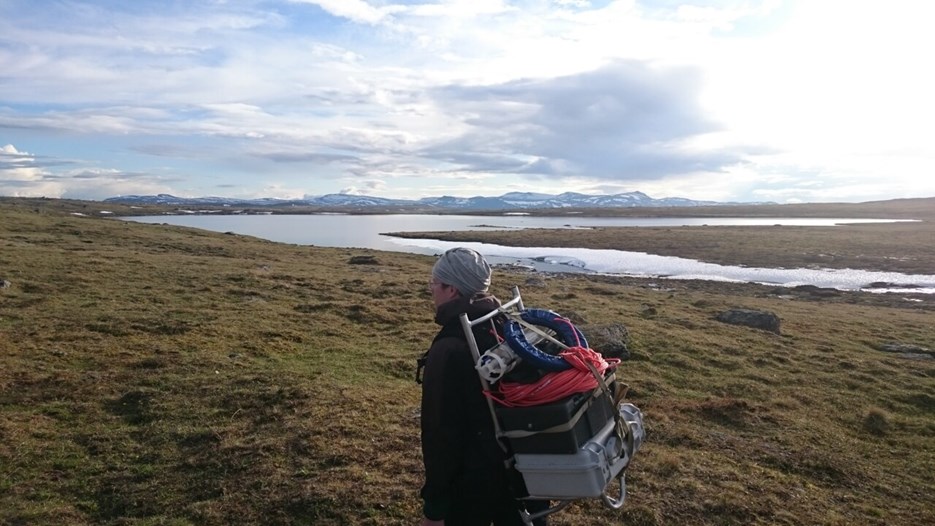 Each year different Arctic research activities are granted funding from Arcum. In the picture, Sven Norman, one of the grantees of this semester's Arcum strategic funds.
Image

Bror Holmgren
Ever semester Arcum grants strategic funding to Arctic research activities at Umeå University, making research trips, events, invitations of guest researchers and publications possible. The funds are available for Umeå University researchers, twice each year. The following researchers were granted funds in the spring call of 2020:
Dalia Abdelfattah & Venkata Krishna Kumar Upadhyayulam, Department of Chemistry
Publication of a scientific article related to Arctic in the special issue "Understanding Arctic Sustainability Challenges from Systems Perspective", Sustainability Journal. Granted 5 000 SEK.
Pär Byström, Department of Ecology and Environmental Sciences
Funding of a meeting in Umeå för a collaboration with professor Anders G Finstad, Norwegian Technical and Natural Science University, Trondheim. Granted 10 000 SEK.
O. Cenk Demiroglu, Department of Geography
Presentation at the 7th IPTRN (International Polar Tourism Research Network) Conference. Granted 10 000 SEK.
Mohammed Hamdan, Department of Ecology and Environmental Sciences
I am a PhD student work on the impacts of climate change on northern lakes. [Publication]. Granted 5 000 SEK.
Jing Helmersson, Várdduo
Organize a workshop for CNARC, in a collaboration between Vardduo and Liaocheng University in China. Beviljas 20 000 SEK.
Daniel Movilla Vega, Department of Architecture
Copy editing of a peer-review article selected for publication in a scientific journal Global Discourse. Granted 5 000 SEK.
Sven Norman,Department of Ecology and Environmental Sciences
Invitation (travel+living expenses) for dr. Tobias van Kooten, Wageningen University, The Netherlands. Tobias is an expert in mathematical models for making models of fish communities response to fishing. Granted 10 000 SEK.
Robert O. Nilsson, Department of Geography
Travel to Iceland for participation in three events:
The 29th Nordic Symposium on Tourism and Hospitality Research i Akureyri, 22-24 september 20202, Uarctic Congress, 6-8 oktober 2020 i Reykjavik,
Arctic Circle Assembly. Granted 10 000 SEK.
Oleg Popov, NMD
Preparation of a paper "Teaching Science in the Arctic context: opportunities and challenges" for publication. Granted 5 000 SEK.
Krister Stoor, Várdduo
Participation and presentation at the University of the Arctic Congress 5–8 October, Reykjavik. Granted 10 000 SEK.
Josefine Walz, Department of Ecology and Environmental Sciences
This activity aims to maintain the long-term soil warming experiment established in 2014 near Toolik Lake in Alaska. Granted 10 000 SEK.
Ekaterina Zmyvalova, Department of Language Studies
Field trip to the Institute of the Peoples of the North of the Russian State Pedagogical University named after Herzen in May 2020 and participation in ICASS X.
We would like to congratulate all grantees and wish all activities good luck! For more information of Arcum's strategic funds, see links below.