Workshop on simulation technology with people in focus
NEWS Thursday the 26th of april was the first workshop in the project Simovate. The overall theme was the availability of advanced simulation techniques for non-simulation professionals.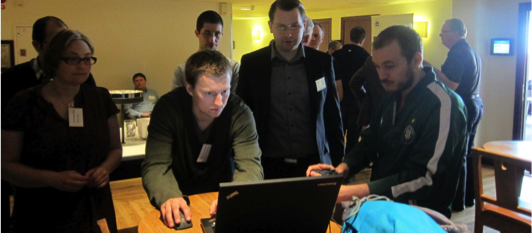 At the workshop several prototypes of technology solutions for interoperability between different types of simulation methods and new interfaces for modeling and editing simulators, was presented, to create a more creative and efficient work in simulation studies of early concepts and prototypes - and not least enable entirely new types of studies and approaches . Plans and early results on the application of new technologies in sharp product and process development was also presented, including, new mining vehicles, production of mineral pellets and systems for drivers of trucks and machinery.
The workshop had a total of 30 participants from the Simovate consortium consisting of the Umeå University and Linköping University. From the business community, representatives of Atlas Copco, Volvo CE, Volvo Trucks, Skogforsk, oryx, Algoryx, LKAB, Enmesh, SKF, Optimation, Modelon.
The Simovate project aims to radically streamline simulation and simulator-based development and product realization in the automotive, manufacturing and process industries. The goal is a platform and methodology for the management of data and models that span the entire design process, from ideas to concepts, systems, training and marketing.
The project is part of VINNOVA's program Challenge Driven Innovation - Phase B and has a budget of 20 million in 2013-2014, of which industrial partners represent half.
Editor: Mats Johansson