The purpose of the screening facility is to offer academic research groups and small biotech companies the possibility to screen a compound library in order to obtain research tools or chemical starting points for e.g. drug development. The resources offered by the facility are assistance in assay development and validation, as well as actual screening. It is also possible to book some of our instruments to operate them by yourself.
Liquid Handling
The facility has instruments for liquid handling in 96- and 384-wellformat and plate readers for measurement of absorbance, fluorescence and luminescence. The instruments can perform a wide variety of assays depending on user requirements.
Biomek NX, BeckmanCoulter (2 instruments)
The instruments are equipped either with a 96 or 384 tip pipetting head and capable of handling volumes down to 200 nL in 96- or 384-well format. A gripper and multi-position deck allows a large degree of automation. The 96w instrument is upgraded with a "cherry-picking" option that allows pipetting from single columns, rows or wells.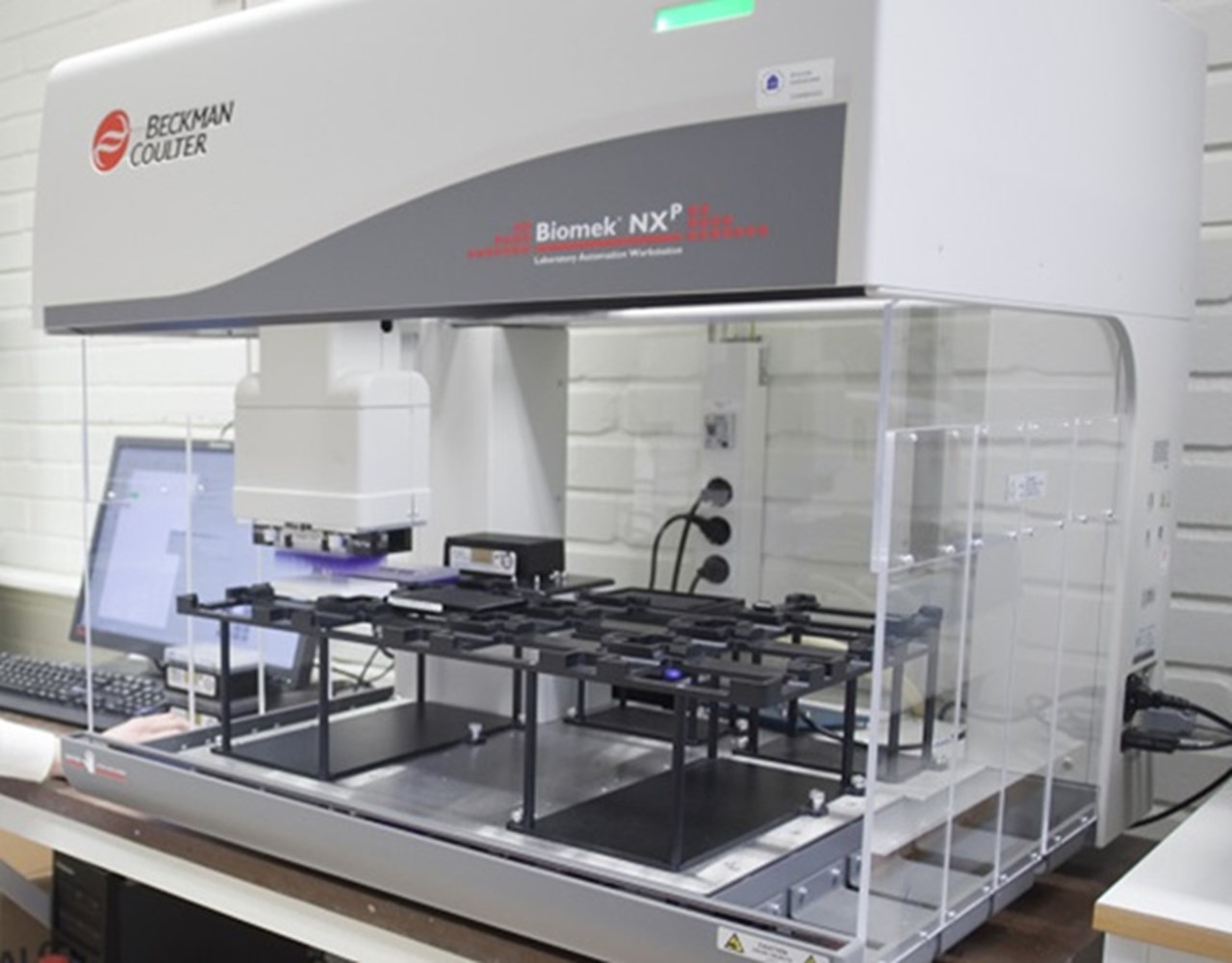 WellMate, Matrix
A fast and flexible dispenser in a wide volume range (1 µl to 2,000 µl). Can handle 6 to 384 wells.
Plate Readers
Synergy H4 plate reader
Synergy™ H4 combines the sensitivity of a filter-based system with the convenience of monochromator-based optics to provide abroad range of
applications. Fluorescence Intensity, Time-Resolved Fluorescence, fluorescence Polarization, AlphaScreen®/AlphaLISA, Luminescence, UV-Visible absorbance, FRET, TR-FRET, BRET, well area scanning and spectral scanning.
Infinite M200, Tecan
This monochromator based plate reader can read absorbance, luminescence and fluorescence in 96- and 384-well format. The reader accommodates standard 1 cm cuvettes. The reader is equipped with shaker and incubator.
Wallac 1420 Multilabel Counter, PerkinElmer
This filter based plate reader can read absorbance, luminescence and fluorescence in 96- and 384-well format. The reader can be equipped with a stacker. A small number of filters is available but additional filters can be purchased by the user.
High Content Screening
Cellomics ArrayScan VTI, Thermo Scientific
This HCS Reader is an automated fluorescence microscopic imaging system designed for high content screening and high content analysis. The instrument features include optics by Carl Zeiss, broad white-light source, 12-bit cooled CCD camera, and controller software.
Cell- and Molecular Biology
In addition CBCS has equipment for general molecular biology and biochemistry including incubators and capacity to work with eukaryotic cells as well as bacteria, fungi and viruses. Screening can be performed at bio-safety level 2.