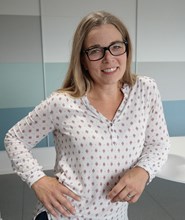 Anna Rosén
Researcher. Specialist in Clinical genetics and PhD in Epidemiology and Public Health. PI for the DIRECT-study. Coordinator for Västerbotten Intervention programme (VIP).
Contact
Works at
Målpunkt P01. Regionalt Cancercentrum (RCC), Norrlands universitetssjukhus, Ledningsstaben VLL
Umeå universitet, 901 87 Umeå
Dr. Rosén leads the multicenterstudy DIRECT - DIRECT INFORMATION TO AT-RISK RELATIVES: A RANDOMISED CONTROLLED TRAIL that aims to develop and evaluate an intervention focusing on enhanced information spreading to at-risk relatives in families with increased hereditary risk of developing breast/ovarian- or colorectal cancer.
Dr. Rosén has received a FORTE grant as a junior researcher for the years 2019-2022. The project is also supported from the Cancer research foundation in Norrland, The Swedish Breast Cancer association, and the Regional agreement between Umeå University and Västerbotten County Council (Projektmedel centrala ALF, kategori yngre forskare samt basenhets-ALF).
Research projects
2 September 2019 until 31 December 2021
Teaching involves lectures and seminars at the Medical programme, Master in biomedicine, Master in nursing, and in internal courses for health care professionals.
Topics;
prevention
public health
screening
clinical genetics
hereditary cancer genetics
ethics and genetics
research methodology
qualitative research methodology
epidemiology