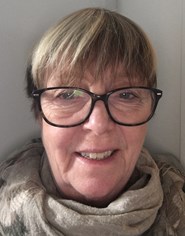 Birgitta Kimber
Ph.D employed at Umeå University. I do intervention research and am interested in designing interventions and also in how to ensure quality in implementation
Contact
Works at
Umeå universitet, Klinisk vetenskap, 901 85 Umeå
I have a Ph.D. from the Department of Public Health Sciences, Karolinska Institute. Over the last 20 years, I have been involved in implementing interventions to promote mental health in school-aged children. I have worked together with researchers from Europe on two EU-funded projects in this area: EAP SEL (www.eap-sel.eu), and RESCUR (www.rescur.eu)
I am also a teacher, a special ed. teacher, and a licensed psychotherapist trained, inter alia, in Mindfulness Based Cognitive therapy (MBCT).
I have worked with researchers in Europe and USA to develop mental-health interventions for schools. And I have also worked for a long time with social workers and teachers in Palestine to help to adapt and implement the Social and Emotional Training (SET) program to work in their society.
My research is both quantitative and qualitative. I am interested in finding out if interventions work and under what conditions they work. I am particularly interested in implementation issues.
I am currently involved in two projects:
RESCUR, a resilience curriculum. In this project I am working together with Gothenburg University, Stockholm University and JUNIS (an NGO). This project will end at the end of 2019: www.rescur.se
The Promoting Resilience, Integration and Adaptation (PIA) project among newly arrived youth and their families. Partners in this project are: Örebro university (PI), the Karolinska Institute and the Norwegian Public Health Agency. The project runs until 2025. My part is mainly to develop a parental intervention, and to train for and run pilot studies and interventions https://www.oru.se/PIAProjekt
I also work as a trainer and supervisor mainly in schools.