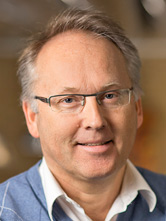 Daniel Lindmark
Professor of Church History at the Faculty of Arts (50 %) and Professor of History and Education at Umeå School of Education (50 %)
Contact
Works at
YA, Norra beteendevetarhuset, 3016
Umeå universitet, 901 87 Umeå
YA, Norra Beteendevetarhuset, 4 tr
Umeå universitet, 901 87 Umeå
Brief Summary of Appointments
Since 2015 I am a professor of Church History at the Faculty of Arts (50 %) and a professor of History and Education at Umeå School of Education (50 %). I am stationed at the Department of Historical, Philosophical and Religious Studies.
After receiving a Master of Education in 1984, I earned my doctorate in History in 1995, became an honorary associate professor (docent) of History in 1999, a senior lecturer of History in 2001, and a full professor of History and Education in 2004. In 2007 I was appointed honorary associate professor of Church History at Åbo Akademi University, Finland.
Selected assignments: Working member of the Royal Gustavus Adolphus Academy for Swedish Popular Culture (Uppsala); working member of the Royal Skyttean Society (Umeå); president of the Historical Society of Luleå Diocese; member of steering groups for the research networks Religion and Memory, and Religious History of the North, respectively; member of editorial committees for History of Education & Children's Literature, History of Education Review, Nordidactica: Nordic Journal of Humanities and Social Science Education, Nordic Journal of Educational History, Studies on Religion and Memory, Studies on the Religious History of the North, and Umeå Studies in History and Education.
Selected Assignments (finished)
After working at the Department of Scandinavian Languages, the Demographic Database, the Research Archives, the Working Unit of Religious Studies, the Department of History/Historical Studies, and the Faculty of Teacher Education, I am currently employed at the Department of Historical, Philosophical, and Religious Studies, Umeå University. I have been a visiting scholar at the University of Pennsylvania, USA (1995), the University of Sydney, Australia (2007–2008), and the University of Newcastle, Australia (2009, 2015–2016). I have served on the boards of the Theological Foundation, Umeå (1998–2004), the Swedish Historical Society (1999–2005), the Society of Swedish Educational History (1999–2005), the Nordic Network for Revival Research, NORDVECK (1999–2011), the Centre for Saami Research (2000–2008), the International Standing Conference for the History of Education, ISCHE (2001–2007), and the National Postgraduate School in Educational Work (2005–2007). I served as director of the national postgraduate school "Historical Media" (2011–2014), and co-ordinator of the local postgraduate school on "Values, Diversity, and Religion" (2016–2017).
At Umeå University I have served on three different employment committees at the Faculties of Art and Teacher Education (1999–2008), two research committees at the Faculty of Teacher Education (2004–2014), the Faculty Board of Teacher Education (2005–2008), and the University Library Board (2007–2008).
Development of Research and Postgraduate Education
Research and postgraduate education are my main tasks. In my capacity as professor and research leader I have been responsible for developing a research group in educational history and history education, Umeå History and Education Research Group. Among other things I have been in charge of the research program "Educational History and History Education", funded by the University Board (2009–2015). The program financed one professor, four postdocs, one doctoral student, and six visiting professors. I have also directed two larger projects funded by the Swedish Research Council Committee for Educational Sciences: "History beyond Borders: The International History Textbook Revision, 1919–2009" (2008–2011), in which four doctoral students completed their dissertations, and "Historical Media: Postgraduate School in History Didactics (ForHiM)" (2011–2014), which financed fifteen students. As first supervisor I have guided a dozen doctoral students to their graduation.
Also in religious studies I have engaged in developing research and postgraduate education. Quite soon after receiving my doctorate, I directed several externally funded research projects focusing on the religious history of the North, including "De Fide Historica" (funded by Societas Suecana Pro Fide et Christianismo, 1996); "Might of Models" (Swedish Council for Research in the Humanities and Social Sciences, 1997–1999); "Domestication of Religion: Popular Religiosity in the Northern Space, 1600–1800" (Bank of Sweden Tercentenary Foundation, 2002–2004). When holding the chair of religious studies in 2012–2014, I returned to these research interests and initiated three new research projects, "The Ecclesiastical and Educational History of Norrland" (2012–2015; Umeå University), "The Church of Sweden and the Saami – A White Book Project" (2012–2015; Church of Sweden Research Unit), and "Saami Voices and Sorry Churches: Use of History in Church-Saami Reconciliation Processes" (2012–2015; Research Council Formas). When Umeå University in 2012 was invited to join the Norwegian postgraduate school "Religion, Values, Society", which from 2016 is funded by the Norwegian Research Council, I served as the contact person of the department (2012–2015), and 2016–2017 I served as the co-ordinator of the postgraduate school in religious education, "Values, Diversity, Religion", which was managed in co-operation with Dalarna University and funded by the responsible authorities for the schools in the wider region of Dalarna.
Research Interests
My research interests can be found in a wide field of cultural history, educational history, and religious history. Popular religion, print culture, and colonial cultural encounters have been prominent themes in my research. Historical culture and mediation of history also belong to my research interests, including religious use of history. I have always had the history of the northern region very much at heart, not least the missionary and educational history of the Sami people.
Research projects
1 July 2012 until 31 December 2016
1 January 2008 until 31 December 2011