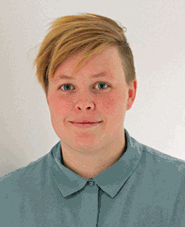 Ida Linander
Ida is a postdoctoral researcher and works at both Epidemiology and Global Health and at the Umeå Center for Gender Studies.
Contact
Works at
Postdoctoral fellow at Department of Epidemiology and Global Health
5B, Målpunkt P, Försörjningsvägen 7 B, Norrlands universitetssjukhus
Epidemiologi och global hälsa, Umeå Universitet, 90185 Umeå
Samhällsvetarhuset, Plan 4
PhD public health. The dissertation concerned how transgender people experience the access to transspecific care and health experiences. Has since the PhD defence done research on sexual consent, experiences of safety among LGBTQ people and women's experiences of living with HIV. Now runs a post-doc project on the mental health of young trans people and also works in a project on separatism. Works primarily qualitatively with interview material.
Research projects
1 January 2020 until 31 December 2022
1 January 2020 until 31 December 2022
1 January 2014 until 31 December 2018
Teaches in qualitative methods, LGBTQ issues and gender issues at medical school, the master's program in public health and in gender studies.