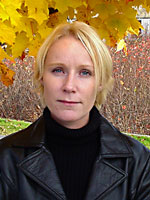 Maria Lindgren Leavenworth
I am Associate Professor/Reader in English literature. From 2016 I am also Director of Studies at the PhD level.
Works at
A, Humanisthuset, korridor HE2
Umeå universitet, 901 87 Umeå
Teaching and Supervision
I teach predominantly literature and cultural studies at all levels, from undergraduate to postgraduate. At present, I am the main supervisor for PhD candidates Eva Wijman and Nuno Marques, and co-supervisor for Spoke Wintersparv. Previous supervision: Tove Solander (PhD degree in March 2015), Julia Pennlert (Department of culture and media studies, PhD degree in February 2018) and Anette Svensson (co-supervision; PhD degree in March 20120).
Research
My research falls into four main strands: travel literature, fan studies, literature and cognition, and Arctic studies. These strands may seem disparate but they are joined in various ways in my work. Intertextuality unites my dissertation work with analyses of fan fiction, fan fiction constitutes the primary material in my examinations of cognitive processes, and speculative fiction returns in several strands, and is central in analyses of how images of the Arctic are relayed in both older texts and contemporary literature.
In my 2000 dissertation The Second Journey (revised 2010), I focused on contemporary trips in the footsteps of an earlier traveler. The original travelogue works as an explicit map guiding the second traveler not only to a geographical destination but to a perception of authenticity. The form of the second journey draws attention to imitation and repetition: aspects that are commonly played down in travel literature, but descriptions often work to transform places that are already mapped (figuratively and literally) into partly new landscapes.
Following my dissertation work I was a member of the research project Foreign North and contunied work on travel literature from the long nineteenth century (see publication list). In my ongoing research, I continue examinations of how outsiders' representations of northern areas in fiction can be tied to and highlight cultural discourses. More specifically, I am interested in how the Arctic functions and changes in speculative fiction: texts that in various ways present events and circumstances that cannot be aligned with the reader's understanding of reality. I examine how specific speculative discourses emerge in relation to the Arctic, and how images of the Arctic change through speculative fiction. Both traditional representations of the Arctic as empty and unfamiliar and contemporary (and future) images of, among other things, climate change are part of the material analysed. My most important publications in this area are the anthology chapter "The Times of Men, Mysteries and Monsters: The Terror and Franklin's Last Expedition" (2010) and the article "Abnormal Fears: the Queer Arctic in Michelle Paver's Dark Matter" (2017).

I have for many years worked with fan fiction:online-published stories starting from already existing fictional worlds. The project FAN(G)S: The vampire in contemporary fan fiction was funded by the Swedish Research Council 2011-2014. Together with my project partner Malin Isaksson I analyzed fan engagement in three contemporary vampire worlds and examined how fanfic authors on the one hand retained strong intertextual links to the source texts on both character- and plot levels, on the other expressed different forms of resistance to it. The project resulted in a large number of articles and anthology chapters (see publication list) and monograph Fanged Fan Fiction was published in 2013. The work with fan fiction has sparked an interest in theoretical and methodological issues connected to paratexts as they appear in digital archives. Key publications here are "The Paratext of Fan Fiction" (2015) and "Paratextual Navigation as a Research Method" (2016).

Fan practices can also be approached from a cognitive perspective. I investigate how the human ability for immersion in stories and for filling in narrative gaps concerning characters' dreams, thoughts and goals can be traced in fan fiction. Among publications here, see "A Truth Universally Acknowledged? Pride and Prejudice and Mind-Reading Fans" (2015) and "Fragmented Fiction: Storyworld Construction and the Quest for Meaning in Justin Cronin's The Passage" (2017, co-authored with Van Leavenworth).
Research groups
Group member
Research projects