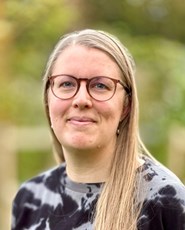 Sara Lundell
Postdoctor in medical sociology. Research about shame and guilt among people with COPD, as well as eHealth solutions to support self-management for people with COPD.
Contact
Works at
Hus Y, Beteendevetarhuset & Norra beteendevetarhuset
Mediagränd 14, Beteendevetarhuset, Umeå universitet, 901 87 Umeå
-, -
Umeå universitet, 901 87 Umeå
Research
With my research, I want to explore how people with COPD can be supported in their self-management. In a new project, I investigate the presence of shame and guilt among people with COPD and how it influences their self-management. I am also involved in several projects about how eHealth solutions can support people with COPD in their self-management. We work with co-creation with people with COPD, relatives and healthcare professionals in the design of new eHealth solutions. I have primarily worked with qualitative methods such as qualitative content analysis and grounded theory, as well as mixed method.
Academic degrees
PhD in physiotherapy 2018, Master in physiotherapy 2012, Bachelor in physiotherapy 2006. Umeå University.
Clinical experience
I have work experience from primary care and rehabilitation of elderly in several municipalities.
Research groups
Group member
Research projects
During my doctoral studies (2012-2018) i was teaching at the Physiotherapy program. My teaching was within communication / motivational interviewing, Swedish massage, joint mobilization, aquaerobics as well as supervision of bachelor and master thesis.