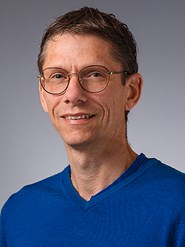 Stefan Johansson
Associate professor at the Department of Computing Science and deputy director at Curiosum.
Contact
Works at
Plan 2, MIT-huset, UMIT-lab
Umeå universitet, 901 87 Umeå
Plan 2, MIT-huset, UMIT-lab
Umeå universitet, 901 87 Umeå
Affiliated as research fellow at Curiosum
Sliperiet, Östra strandgatan 32
Östra strandgatan 32, 903 33 Umeå
Stefan is associate professor (temporary employment) at the Department of Computer Science, where he mainly teaches software engineering and computer graphics. He has a research background in numerical linear algebra (eigenvalue problems and perturbation theory) and also a great interest in digital game development and visualization. Stefan is assistant Programme Director for the Master of Science programme in Computing Science and Engineering, and the Bachelor Programme in Computing Science.
Stefan is also deputy director at Curiosum. Curiosum, located on the art campus, is Umeå's new science center and makerspace.
Current research is mainly within the project "Creative Exploration of the Atmosphere – Visualisation of Authentic Data" (VisA). The project aims to make authentic data available to children and young people in order to increase their interest and understanding of science and technology. It is an interdisciplinary project that includes space physics, big data, interactive visualization techniques, and didactic aspects. Mainly data from EISCAT 3D will be visualized in a dome theater, but other data and platforms will also be used.
Research groups
Group member