Research seminars
The UID research seminar is an opportunity for researchers, PhD students, and guests to engage in critical discussions related to design research.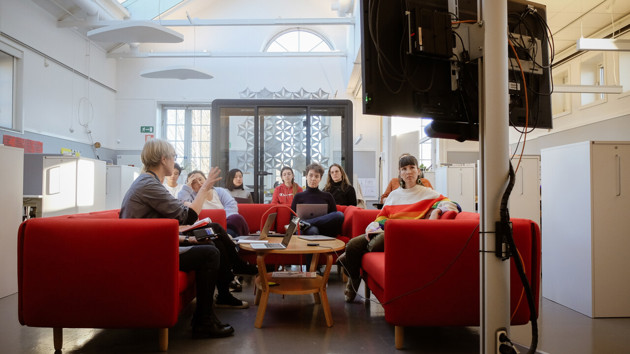 A Research Seminar at UID gathers both PhD students and other programme students
Image
Elin Kolterjahn
The research seminars are generally based on a research publication or work in progress that the participants are encouraged to read ahead of time. Seminars take place on Tuesday afternoons, 13.15-15.00 CET, in a hybrid format online and in the Research studio at Umeå Institute of Design
If you would like to participate in a seminar, contact maria.goransdotter@umu.se.
Research seminar dates - Spring 2023
January 17
January 31
February 14
February 28
March 14
March 28
April 11
April 25
May 9
Research seminars - Fall 2022
September 6 - Ben Matthews: Turning design towards remaking the conditions of design
Ben Matthews is the Program Director for The University of Queensland's Master of Interaction Design in Brisbane, Australia.
Methods and practices of design are becoming widely applied in domains not traditionally associated with design. This is visible in how versions of "design thinking" have been taken up in various commercial fields, and how an idea of "co-design" is more recently becoming formalised in various kinds of clinical and health policy research. Yet as versions of design are sought by others as a remedy for intractable problems in their own fields, we are inclined to ask how and why the design community at large might turn its attention to itself, to rethink and remake the conditions of its own practice. Design itself is beset by challenges. At the very least, these include its complicity in the industrialisation of production and ecocide, its limited ability to anticipate and counter the social and ethical consequences of technological platforms, its historical contributions to perpetuating inequitable status quos, and its servitude to consumerism. Design's ability to address these issues is compromised by the difficulty it has in mobilising its own (often fractured) publics to address the institutional and political structures within which it operates. This seminar will raise more questions than answers, and is intended as an open discussion of some early thoughts on design's imperative to attend to itself, and rework its own conditions of practice.
Suggested reading:
Matthews, B., Doherty, S., Johnston, J., & Foth, M. (2022). The publics of design: Challenges for design research and practice. Design Studies, 80, 101106. https://doi.org/10.1016/j.destud.2022.101106
Matthews, B., Doherty, S., Worthy, P., & Reid, J. (2022). Design thinking, wicked problems and institutioning change: A case study. CoDesign, (2022), 1-17. https://doi.org/10.1080/15710882.2022.2034885
September 13 - Claudia Garduño Garcia: Designing future experiences of the everyday: Pointers for methodical expansion of sustainability transitions research
Claudia Garduño Garcia, Associate Professor, Universidad Nacional Autónoma de México
It is critical now that we direct all our efforts at transitions to post-carbon and sustainable futures. Currently, transitions are mostly handled by select expert groups who generate transition visions, scenarios and pathways, feed their findings into policy-making processes, thereby locking-in "futures" _on behalf of the wider public. Scholars from a variety of disciplinary backgrounds are searching for more effective means to engage and empower citizens to effectively comprehend and actively take part in futuring processes. Experiential futures is an emerging field that connects experience design and futures studies. Experiential scenarios aim to create real memories of virtual events so that alternative futures can be understood and deliberated better by publics. This article maps contributions belonging to different disciplinary fields (including speculative design, literature studies, and psychology) to explore the means by which the everyday in futures could be virtually or vicariously experienced, aiming to contribute into the theoretical and methodological base of experiential futures. Our findings suggest that people's ability for being immersed into a story is positively correlated with their empathic capacity. Immersion seems to be most successfully achieved when the experience shares some level of familiarity with people's everyday reality and when the narrative is logically convincing. In addition, our findings indicate that avid fiction readers are more easily immersed in alternative scenarios than those who are not. Our findings have significant implications for designing future experiences of the everyday, therefore, on theory and methods of sustainability transitions.
In preparation, please read:
Garduño García, C., & Gaziulusoy, İ. (2021). Designing future experiences of the everyday: Pointers for methodical expansion of sustainability transitions research. Futures, 127. https://doi.org/10.1016/j.futures.2021.102702
Claudia Garduño García is an Associate Professor at the Postgraduate in Industrial Design at Universidad Nacional Autónoma de México (UNAM), where she teaches courses related to design for sustainability, collaborative design methods, and design activism. Garduño holds a BSc in Industrial Design by Tecnológico de Monterrey Campus Ciudad de México, and an MA in Applied Art and Design, as well as a DA in Design by Aalto University School of Arts, Design, and Architecture.
September 27 - Mette Kjaersgaard: Design anthropological perspectives and theory instruments
Mette Kjaersgaard, Associate Professor, University of Southern Denmark
While ethnographic fieldwork is increasingly celebrated as valuable to design, still little attention is given to the potentials of the more theoretical contributions of anthropology. In Design games as fieldwork (Kjaersgaard, Knutz & Markussen 2021) we argue that what anthropology may contribute to design is not simply found in methods for generating empirical material on human practice, but more so in the way anthropological theories and perspectives can (re-) frame design problems and possibilities. For design anthropologists, theory plays an important role in forming perspectives on fieldwork and directing our attention in the field, in sensitizing us to particular data and formulating insights, and in understanding the role and opportunities of design. To further explore the potentials of anthropological theory in interdisciplinary design practices we recently developed a set of Theory Instruments' that turn theoretical concepts into tangible and playful resources for collaborative analysis while sensitizing and challenging designers and researchers to gain new perspectives on field material and design potentials.
Based on examples from our experiments with theory instruments and design games ,we will discuss how 'tangibles' may serve as 'tools' for a design anthropological practice.
Mette Kjaersgaard is an associate professor at University of Southern Denmark.
Readings:
Sorensen, Kjaersgaard & Buur (to be published Oct 2022) Theory Instruments as Tangible Ways of Knowing Ethnographic Praxis in Industry Conference, Conference Proceedings
For a copy of the paper draft, contact brendon.clark@umu.se.
October 25 - Cindy Kohtala: A Taxonomy of User Engagement in the 21st Century
Cindy Kohtala (Umeå University)
People not only purchase and use products and services, but creatively appropriate, hack, redesign and even innovate in them. Typologies of active use have emerged in various disciplines, remaining piecemeal even if complementary. Together they produce a blurry depiction of active design engagement, despite active use being pivotal to many emerging design approaches. To remedy this, we synthesize a taxonomy of different aspects of active use and design engagement. Use as-is, active use, locally new designs and globally new innovations mark different intensities of engagement. These can concern the material form of design, new uses, new meanings, adjustment to local settings, or the collective endeavours to shape communities and organizations, ideologies and imaginaries, and global platforms that facilitate active use.
Cindy Kohtala is a professor of design for sustainability and the program director of the Interaction Design MFA program at UID.
In preparation for the seminar, please read:
Kohtala, C., Hyysalo, S., & Whalen, J. (2020). A taxonomy of users' active design engagement in the 21st century. Design Studies, 67, 27-54. https://doi.org/10.1016/j.destud.2019.11.008
November 15 - Danielle Wilde: Workshops as a methodology for enacting participatory research through design
Danielle Wilde is professor of Design for Sustainability at Umeå Institue of Design, and leads food system sustainability transition research at the University of Southern Denmark
This seminar invites consideration of what it means to take an embodied stance in research and use workshops as a core methodology for enacting participatory Research through Design. In particular, it examines the impact of positioning food and sustainability as subject, object, context, design material, and multi-species concern.
Wilde provides three articles in preparation, to open up thinking around how workshops might be conducted. Moving from the general to the particular, the first discusses four workshops that explore ways of interrogating human-food-technology-interactions. The other two provide different perspectives on a single series of workshops. Together, the three articles invite diffractive reading of workshops as an embodied methodology. They open up for consideration ways of writing about, and collaboratively negotiating, research conducted through design.
In preparation, please read:
Dolejšová, M.* and Wilde, D.,* Altarriba Bertran, F., Davis, H. Disrupting (More-than-) Human-Food Interaction: Experimental Design, Tangibles and Food-Tech Futures. Designing Interactive Systems. (DIS2020) ACM (2020): 993-1004. *joint first authors
Wilde, D. Shitty food-based world-making: Recasting human|microbiome relationships beyond shame and taboo. Futures Volume 136, 2022, 102853, ISSN 0016-3287, https://doi.org/10.1016/j.futures.2021.102853.
Lenskjold, T.*, Wilde, D.* (2022) Shitty stories: Experimenting with probiotic participation through design, in Lockton, D., Lenzi, S., Hekkert, P., Oak, A., Sádaba, J., Lloyd, P. (eds.), DRS2022: Bilbao, 25 June – 3 July, Bilbao, Spain. https://doi.org/10.21606/drs.2022.521 *Joint first authors/equal contribution.
For more see: http://daniellewilde.com
November 29 - Tom Djajadiningrat: Tangible interaction: how we will one day interact or how we can currently reflect?
Tom Djajadiningrat - freelance innovation and UX designer
Tangible interaction is a rather curious interaction style. It has been an important research topic in the academic design community for at least 25 years but outside of academia few people know the term. Likewise, numerous demonstrators and concepts have been developed by universities and innovation groups around the world but a commercial breakthrough has not happened yet. Regardless of whether tangible interaction will ever see widespread commercial success, I feel it has value conceptually because it questions many aspects of human-product interaction that we take for granted and thus raises awareness about the weaknesses of current interaction styles. In this talk, we will look at tangible interaction through a perceptual-motor lens: the physical world's multi-sensorial expressivity and the rich repertoire of actions it allows can make interaction more effective and enjoyable. We will take a very pragmatic approoch and look at situations in which touchscreen interaction breaks down and tangible interaction makes sense. Finally, we will have a look at the cross-over between tangible interaction and augmented reality: from a user perspective, does it matter whether physical objects have sensors inside of them or are monitored through computer vision?
Bio: Tom Djajadiningrat is a freelance innovation and UX designer (www.designdrone.nl). Prior to starting his own company he worked in corporate design, focusing on physical-digital concepts for both healthcare and consumer applications. Before working in industry, he worked as assistant and associate professor in industrial, interaction and user-centred design. He holds a PhD on perception and action in desktop VR and a bachelors and masters in industrial design. He has written over 50 publications and is (co-)inventor on more than 20 patents.
Readings:
Djajadiningrat, J.P., Wensveen, S.A.G., Frens, J.W., & Overbeeke, C.J. (2004). Tangible products: Redressing the balance between appearance and action. Special Issue on Tangible Interaction of the Journal for Personal and Ubiquitous Computing, 8:294-309.
Djajadiningrat, J.P., Matthews, B., Stienstra, M. (2007). Easy doesn't do it: skill and expression in tangible aesthetics. Personal and Ubiquitous Computing (11), 657-676.
Djajadiningrat, T., Lui, P., Chao, P.Y., & Richard, C. (2016). Virtual Trainer: a low cost AR simulation of a sudden cardiac arrest emergency. Conference proceedings of DIS 2016, 607-618. Brisbane, June 4-8, 2016.
December 13 - Anja Neidhardt: Disentangling Design From Oppressive Structures
Anja Neidhardt (Umeå University): Disentangling Design From Oppressive Structures - Envisioning, Building, and Sustaining Alternative Design Museums: The Design of my Research
Disentangling Design From Oppressive Structures - Envisioning, Building, and Sustaining Alternative Design Museums: The Design of my Research, with Anja Neidhardt
In this seminar, Anja Neidhardt will present and discuss the development of her PhD thesis' methodology chapter. Anja is a doctoral candidate at Umeå Institute of Design and at Umeå Centre for Gender Studies, both at Umeå University, Sweden. Her PhD research project focuses on the question of how design museums can be disentangled from oppressive systems like patriarchy, so that they become able to support change towards more justice.
Latest update: 2022-11-17