Campus Umeå is our largest campus and is inspired by a classic North American campus. Nearly all of the courses and programmes that are taught in English take place on Campus Umeå or at Umeå Arts Campus, situated by the Ume River.
Campus Umeå
Campus Umeå is our main campus and the place where it all began. Most of our research and teaching takes places here. And in its heart stands the symbolic Northern Lights sculpture in an attractive atmosphere surrounding the campus pond. Nearby, you will also find our close partner, the Swedish University of Agricultural Sciences (SLU).
Umeå Arts Campus
Umeå Arts is located next to the scenic Ume River and close to central Umeå. In this area, you will find the Umeå Institute of Design, Umeå Academy of Fine Arts and Umeå School of Architecture. In addition, the internationally acclaimed Bildmuseet museum of contemporary art and Sliperiet creative hub are based here.
Campus Skellefteå and Campus Örnsköldsvik
We also offer a selection of study programmes and courses at our regional campuses in the neighbouring cities of Skellefteå and Örnsköldsvik.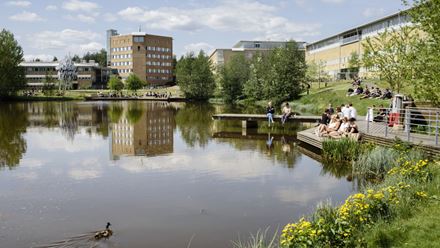 Campus Umeå
The main campus and focal centre of Umeå University.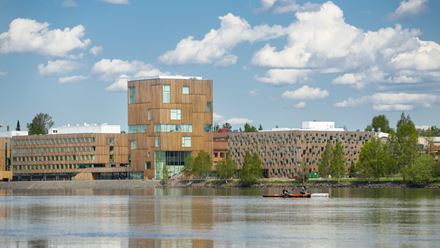 Umeå Arts Campus
Umeå Arts Campus is situated by the Ume River, near the city centre.