Our doctoral education programme is conducted in close cooperation with leading researchers at the department. The research education is not focused on any specific subject within informatics, but the content of the thesis should be within the scope of existing research at the department.
The program comprises four full-year studies and consists of a number of courses and a thesis. In addition to in-depth knowledge in a field of science, you also practice critical and analytical thinking. During the training you will be able to solve problems independently and you are prepared for a professional career in the world of education, industry or the public sector.
To be admitted as a graduate student, you must:
Meet the prerequisites for each subject
The applicant has the ability needed to complete the education
The admission regulations for postgraduate education include the rules that Umeå University applies for application, eligibility and selection. More information can be found on Umeå University's doctoral manual and on the faculties websites and in their own manuals.
Admission to postgraduate education: dates and deadlines are announced on the institution's website.
Head of doctoral studies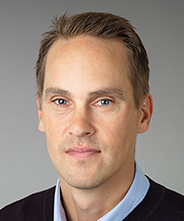 Rikard Harr
Senior lecturer (associate professor)