Applied physics, applied electronics and energy technology
The third-cycle programmes (doctoral education) at the Department of Applied Physics and Electronics, are given in the fields of applied physics, applied electronics, control engineering, signal processing, biomedical engineering, energy technology, thermal process chemistry and energy efficiency.
The research has the character of both basic and applied research, and is conducted in collaboration with both national and international research groups as well as with the industry. Our research projects can include, for example, wireless networks, embedded systems, robotics, image analysis and mathematical models for reading, visualization, prediction and control of real systems or sensor technology for medical diagnosis. We also conduct research on energy use and energy efficiency of buildings as well as thermochemical energy conversion, such as combustion, gasification or pyrolysis of biomass.
Doctoral studies involve four years of full-time study and ends with a doctoral degree. The goal of the doctoral program is to educate researchers at a high international level for a continued career in research and development in the industry or within the academic world.
A doctoral programme includes a number of courses and a research project. An individual study plan is set up for each doctoral student and at least two supervisors are appointed. The courses provide breadth and in-depth knowledge about the research subject. In addition, basic skills necessary for a successful researcher are trained as, for example, through courses in research methodology, oral and written presentation, ethics and science theory. In the thesis work, a research project is carried out aimed at generating new knowledge within a scientifically interesting area. An important part of the doctoral programme is the presentation of the student's own research at national and international conferences.
Read more about research in the Department of Applied Physics and Electronics
Director of PhD studies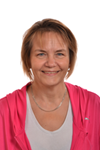 Associate professor