Anders Sunna / Area Infected
NEWS For his painting, Anders Sunna gathers subject matter from history and his personal experience. Frequently, the subject is a lengthy conflict played out between the family, the Sami village and the county administration. At Bildmuseet, he presents Area Infected, a new painting that depicts a series of events arising from this long-running conflict.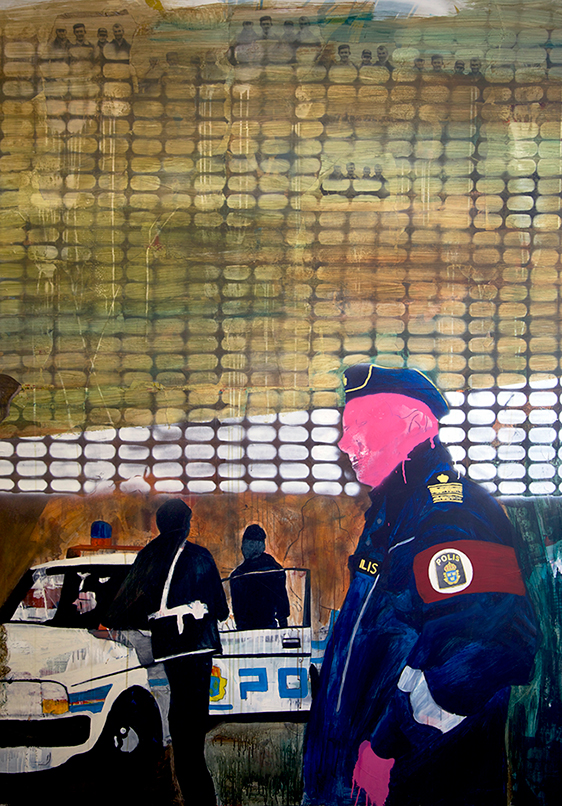 Among other things, its subject is the forcible removal of their family and the reindeer and the practice of guerrilla reindeer herding as a survival strategy. Anders Sunna combines different materials and techniques; he places great emphasis on making the surface of the painting an expressive dimension.
Anders Sunna underlines the power of the image. He believes that the image affects the spectator more directly than a text which, when all is said and done, you must choose to read and make an effort to understand. He also describes how his feelings of frustration and injustice demand an outlet and how he has found a way of channelling his anger through the visual arts. Through his paintings, he claims visual scope to be able to recount his family's story.
Anders Sunna (born 1985) comes from Kieksiäisvaara, in the far north of Sweden, and is active in Jokkmokk. He studied at Konstfack (University College of Arts, Crafts and Design in Stockholm). Some of his most recent exhibitions have taken place at the Swedish Institute in Paris, France (2014); Korundi, Rovaniemi, Finland (2014); Gällivare museum (2014) and The Sami Artist Centre SDG, Karasjok, Norway (2013).
The exhibition is produced by Bildmuseet, with support from Umeå2014 and Kulturkontakt Nord (Nordic Culture Point).
Editor: Helena Vejbrink