Published: 11 May, 2010
Balticgruppen Design AB invests SEK 90 million into Umeå Arts Campus
NEWS Umeå University is developing a creative environment that has no comparable equivalent anywhere in Europe. The new Umeå Arts Campus will be a hub for education, research, and professional activities in architecture, design, art and new media.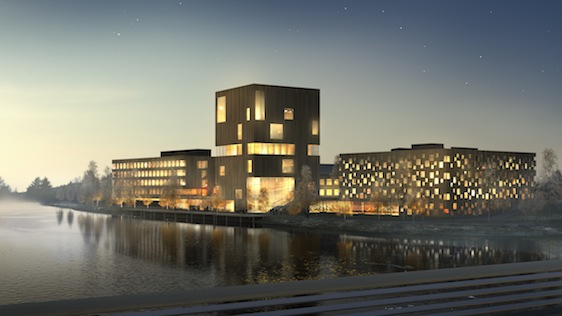 Balticgruppen Design AB is offering a rental rebate of SEK 90 million (approx. € 9.4 mln), which gives the university the opportunity to appropriate the same amount of funds to further develop research at Umeå Arts Campus.
"This is a fantastic contribution. This investment significantly increases the chances of creating a unique environment that will be critical not only for university, but also for the development of Umeå and the surrounding region," says Umeå University Vice-Chancellor Göran Sandberg.
The substantial rental rebate allows the result of the collaborative fundraising campaign "Ahead with Umeå University" (Swedish: Framåt med Umeå universitet). The aim of the campaign is to improve dialogue between university and industry and to create more long-term relationships. The campaign is targeted at businesses, organisations, foundations and private individuals.
"By increasing private support for our research, we can strengthen the university's competitiveness and raise our ambitions even higher. The campaign aims to secure partnerships that will benefit all parties," says Göran Sandberg.
Krister Olsson of Baltic Design AB, hopes that the SEK 90 million rental rebate will be a good example for mutual benefit. "With this agreement, we have created a partnership that benefits both of Umeå University, and us as property managers," says Krister Olsson.
The cost savings will be used for research and areas of support for research. Examples of research projects that will be financed are: Design and architecture for better quality of life, interaction design for industrial environments and processes of creativity. In addition, resources will allotted for research in energy efficiency and life cycle assessment.
"This investment fits very well into our profile as a property manager," says Krister Olsson." Design and architecture are also important to us as property managers. The real estate properties at Umeå Arts Campus shall be characterised by energy efficiency and buildings suited for recycling. When the second phase is completed, it will get even more into focus," he continues.
"The research at Umeå Arts Campus will be of significant benefit. Creative industries are a branch of the future that will become increasingly important. A project team led by Peter Kopelman is also investigating if we should develop an incubator for creative industries, or perhaps to emulate the Finnish Aalto University's concept of design, media and service factories," explains Sandberg.
The lease agreement between Baltic Design AB and Umeå University will be formally approved by the government. The rental rebate applies for the period 2012-2016.
Read more about Umeå Arts Campus
Press photos of Umeå Arts Campus
Contact Person: Göran Sandberg, Vice-Chancellor of Umeå University
E-mail: rektor@adm.umu.se
Mobile:+ 46 (0)70-318 12 75
Editor: David Meyers