Danuše Nerudová presented sustainability oriented future EU-funding to the European Parliament
NEWS On January 31, 2017, the Committee on Budgets (BUDG) in the European Parliament held an Interparliamentary committee meeting. The topic of the meeting was: More transparent, simple, fair and democratically accountable ways to finance the EU: Follow up of the final recommendations of the high-level group on own resources.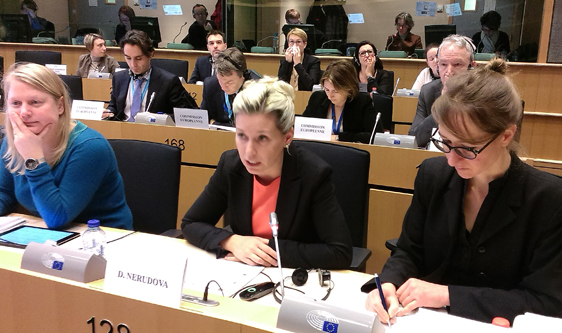 At the meeting, Danuše Nerudová presented research on sustainability oriented future EU-funding, that she has conducted together with Margit Schratzenstaller and their colleagues in FairTax work package 5 and 8.  Margit Schratzenstaller together with, Danuše Nerudová presented the same research to the High Level Group of Own Resources in September 2016, and the group also referred to this research in their final recommendations.
In her talk Danuše Nerudová pointed out, that the research team feels honoured and welcomes the fact, that the sustainability perspective, which firstly has been presented in their paper, was took up by the final report of HLGOR and that the report understands the EU-tax based own resources as the tool for the closing of the existent of the sustainability gaps, which were firstly defined by their paper. She pointed out that:
"EU-taxes could help decrease those gaps. Tax based own resources could be used as tools to close existing sustainability gaps, and by that contribute to the goals of a smart, sustainable and inclusive growth, set by the Europe 2020 strategy. In our research, we introduce four sustainability oriented criteria for future EU-funding: economic sustainability, social sustainability, environmental sustainability and institutional sustainability. From these criteria, we have evaluated five candidates for a future EU-tax: a CCTB, a CCCTB, a financial transitions tax, a carbon-based flight ticket tax and a carbon tax. Our conclusion is that the EU will need not only one of these candidates, but a combination of them, to reach a more sustainable funding system in the future."
Other speakers at the meeting were: Günther Oettinger, EU Commissioner responsible for Budget and Human Resources, Alain Lamassoure, EP Member of the High-Level Group on Own Resources, Ivailo Kalfin, EP Member of the High-Level Group on Own Resources and Constance Adolf, Green Budget Europe. The presentations were followed by a debate between National Parliamentarians and MEPs.
Editor: Elin Andersson