Published: 18 Oct, 2017
Double celebration with H.M. King Carl XVI on campus
NEWS This year, Umeå University gets the honour of welcoming the Swedish King to the University's Annual Celebrations. At the same time, the King receives his 70th birthday present in the form of an arctic seminar. The Annual Celebration starts on Friday 20 October consisting of an exhibit, lectures open to everyone and a ceremony celebrating new professors, award recipients and honorary doctors.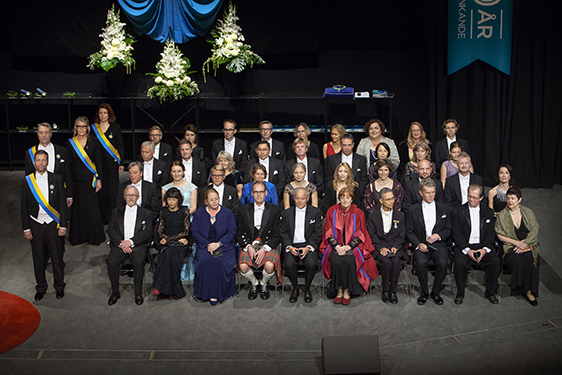 The Annual Celebration at Umeå University takes place in late October every year. It is an important ceremonial event where the university installs its newly appointed professors, and celebrates honorary doctors, scientific award recipients, and every third year also medalists.
This year's celebrations start on 20 October at 11:00 when chief librarian Mikael Sjögren opens the exhibit on the 2017 honorary doctors, new professors and award winners. Also, associate professor Virginia Langum will hold the lecture Reading and health. The majority of the celebrations, however, take place on 21 October when the general public have an interesting array of popular science lectures to choose between. Festivities continue with the Annual Celebration Ceremony in Aula Nordica, during which eight honorary doctors will be promoted, 17 new professors installed, and nine scientific award recipients will be celebrated.
"Coming to Umeå University over this weekend is like being served a full Swedish smorgasbord. The only trouble is choosing what not to listen to. The programme of popular science lectures that takes place on Campus Umeå on Saturday is free for everyone to take part in, and there are several lectures available in English. Umeå has a reputation to hold a particularly pleasant ceremony, so I'm hoping that many people will join in," says Master of Ceremonies Charlotte Wiberg.
On Saturday 21 October, a great number of popular science lectures are offered, 32 in total, and 13 of which in English starting at 9:00 in the Social Sciences Building and the Humanities Building. The lectures provide further insights into subjects like obesity in Sweden and the US, what reasons could possibly stop us from saving the Earth, how we could take advantage of bacterial stress, the gene-editing technology CRISPR-Cas9, declaring war on problems, and ecosystem collapse. The lectures are held by honorary doctors, new professors and award recipients.
See programme on English lectures (only includes lectures in English)
Read the entire programme in Swedish (includes all lectures)
The Arctic seminar in honour of H.M. the King
The Arctic Seminar is a scientific seminar held on Saturday 21 October at 14:00–15:00 in the Humanities Building, lecture hall G. The seminar is a gift from Umeå University to His Majesty King Carl XVI Gustaf on his 70th birthday last year. The theme of the seminar is, not surprisingly, the Arctic – a highly topical issue – not least because of the climate changes that pose a substantial threat to the world we live in. The three keynote speakers are: John Anderson, professor at Loughborough University in England, and holder of the H.M. King Carl XVI Gustaf professorship in Environmental Sciences 2017–2018, Ellen Dorrepaal and Jonathan Klaminder, both senior lecturers at the Department of Ecology and Environmental Science at Umeå University. The seminar will be held in English and is open to the public at no cost and no prior registration is needed.
Annual Celebration Ceremony
On Saturday at 17:00–19:00, the Annual Celebration Ceremony takes place in Aula Nordica at Campus Umeå. During this event, eight honorary doctors will be conferred, 17 new professors installed, and nine scientific award recipients will be celebrated. His Majesty the King will participate in the Ceremony.
Everyone interested is welcome to the Annual Celebration Ceremony in Aula Nordica. No dresscode applies to the audience and it is free of charge. Some seats may be available for drop-in guests if you turn up in time.
Read more about this year's honorary doctors, professors and award recipients (pdf in Swedish)
Portrait photos of this year's honorary doctors, new professors and award recipients
For more information on the Annual Celebration, please contact:
Charlotte Wiberg,Master of Ceremonies at Umeå UniversityPhone: +46 70-201 15 40
Email: charlotte.wiberg@umu.se
For more information on the Arctic Seminar, please contact:
Malin LarssonThe Vice-Chancellor coordinator, Umeå UniversityPhone: +46 72-715 76 20
Email: malin.larsson@umu.se
For information about photo and press opportunities, please contact:
Mattias Grundström MitzPress Officer, Umeå UniversityPhone: +46 70-610 08 05
Email: mattias.mitz@umu.se
Editor: Anna Lawrence