Finance student appointed Global Swede
NEWS Javier Jo Mai, master's degree student in in finance, has been appointed Umeå University's Global Swede 2020. On Thursday, May 28, the Ministry of Foreign Affairs, in collaboration with the Swedish Institute, organized a diploma ceremony for the award – the first ever digital one. Javier received a diploma, on Campus, from Deputy Vice Chancellor Heidi Hansson.
Text:
Jessica Bergström Grahn
It's the Swedish Institute which, on behalf of the Ministry of Foreign Affairs, for the tenth consecutive year, invites Swedish Universities to nominate a student from a country outside the EU/EES to Global Swede. Foreign students who have distinguished themselves in areas such as innovation and entrepreneurship, and are good representatives of both Sweden and their own country, are being acknowledged during the ceremony.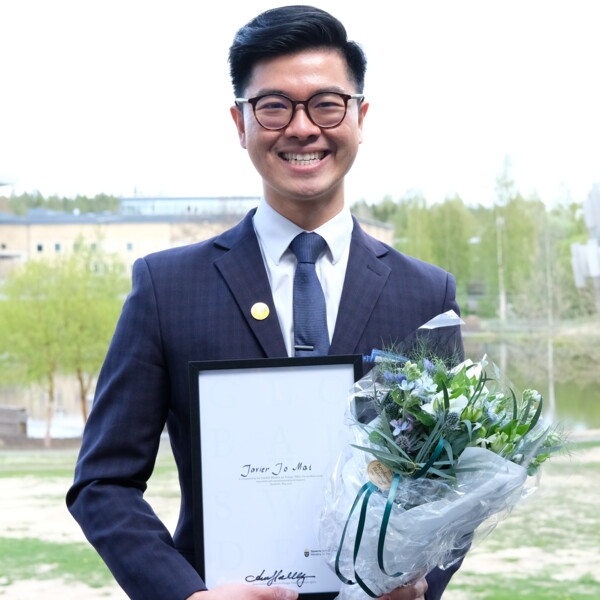 Javier Jo Mai, Umeå University's Global Swede 2020.
Image
Petra Käck
Javier Jo Mai comes from Guatemala and is a last term Finance student at the School of Business, Economics and Statistics at Umeå University.
- This award means a lot to me. I get to be an ambassador for Umeå University and Sweden, as well as the connection to Guatemala. In this world we need to be more connected to each other, as we are all dependent on each other.
Global Swede is part of the process of building long-term relationships with international students in Sweden.
- Javier has been a driving force in important questions for international students and has organized activities to strengthen the community among them. He is a good ambassador for both Umeå University and Sweden, says Heidi Hansson, Deputy Vice Chancellor of Umeå University.
Foreign Trade Minister and Minister responsible for Nordic Affairs, Anna Hallberg and the Swedish Institute's Director General Madeleine Sjöstedt, as well as students and representatives from other Swedish universities, also participated in the digital ceremony.
Find an interview with Javier here
For questions
Please contact Ingrid Svensson, Director International Office,
or Javier Jo Mai, +46 (0)702828891.