Honorary doctor Denis Mukwege wins the 2018 Nobel Peace Prize
NEWS Denis Mukwege, honorary doctor of medicine at Umeå University, together with Nadia Murad, has been awarded the 2018 Nobel Peace Prize for their efforts to end the use of sexual violence as a weapon of war and armed conflict.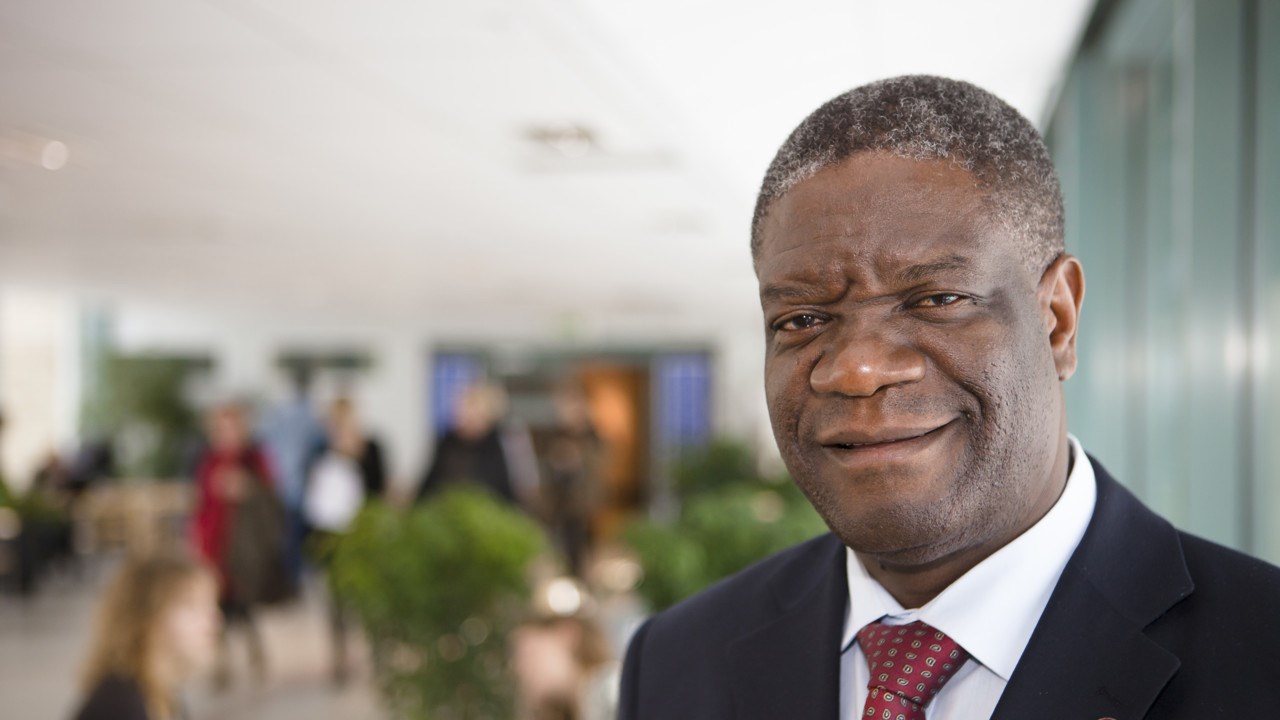 Dr Denis Mukwege, honorary doctor of medicine at Umeå Univerity, wins the 2018 Nobel Peace Prize.
"Umeå University has followed Denis Mukwege's efforts in the Democratic Republic of Congo for several years and is incredibly happy that his important work has been paid attention to. He is a well-deserving laureate and we are looking forward to welcoming him here again soon," says Hans Adolfsson, Vice-Chancellor of Umeå University.
In a country that through history has been called both "the heart of darkness" and "the rape capital of the world", Denis Mukwege, surgeon and gynaecologist, has become hope personified. Since the Panzi Hospital was established in Bukavu in 2008, Denis Mukwege and his staff have treated thousands of patients who have fallen victim to such assaults. Denis Mukwege has treated thousands of women and children over the years who have been victims of sexual abuse.
Denis Mukwege was promoted honorary doctor at Umeå University in 2010 and visited Umeå University at the 2016 Annual Celebration in which newly appointed professors are installed, and honorary doctors and scientific award recipients are celebrated. In conjunction with his visit, he spoke of the road to peace in DR Congo and the film "The man who mends women" about his life and work was shown.
Denis Mukwege has a special place for Umeå in his heart.
"He often says there's something special about Umeå," according to Ellinor Ädelroth, professor emerita, lung physician and former Head of the Department of Public Health and Clinical Medicine.
She has worked closely to Denis Mukwege for several years and is currently working with him at the Panzi Hospital in DR Congo.
Denis Mukwege shares the Prize with the human rights activist Nadia Murad from Iraq. Nadia Murad is just one of an estimated 3,000 Yazidi girls and women who were victims of rape and other abuses by the IS army.
Read the announcement from the Norwegian Nobel Committee
For more information, please contact:
Ellinor Ädelroth
professor emerita at Umeå University and volunteer at the Panzi Hospital
Phone: +46 70-254 71 19
Email: eadelroth@gmail.com