Sweden's first Exercise Physiology programme starts in Umeå
NEWS An Exercise Physiology programe with medical and international focus will start in Autumn term 2020 at Umeå University. Exercise Physiologists with their medical knowledge of how the body works, and the intricate physiological changes that occur during training, can have a career spanning the spectrum of elite sport to exercise sport, in Sweden and abroad. The programme is designed with a global perspective, a semester entirely in English, and another semester for studies abroad.
"Our modern lifestyle is causing, partially, physical and mental ill-health in society and health and training therefore is a societal need and has future pospects for both Exercise Physiologists and Strength and Conditioning specialists around the world", says Michael Svensson, senior lecturer and researcher at Sports Medicine, Umeå University.
An Exercise Physiologist has excellence in physical training, in terms of both theoretical and practical skills, and can work with physiological tests and training for health as well as for optimization of physical performance in elite sport. You can work as strength and conditioning specialist for sports teams, groups and individuals, as development and training manager in sports clubs and gyms, or as test manager at exercise physiological laboratories.
These opportunities are abundant in Sweden and abroad.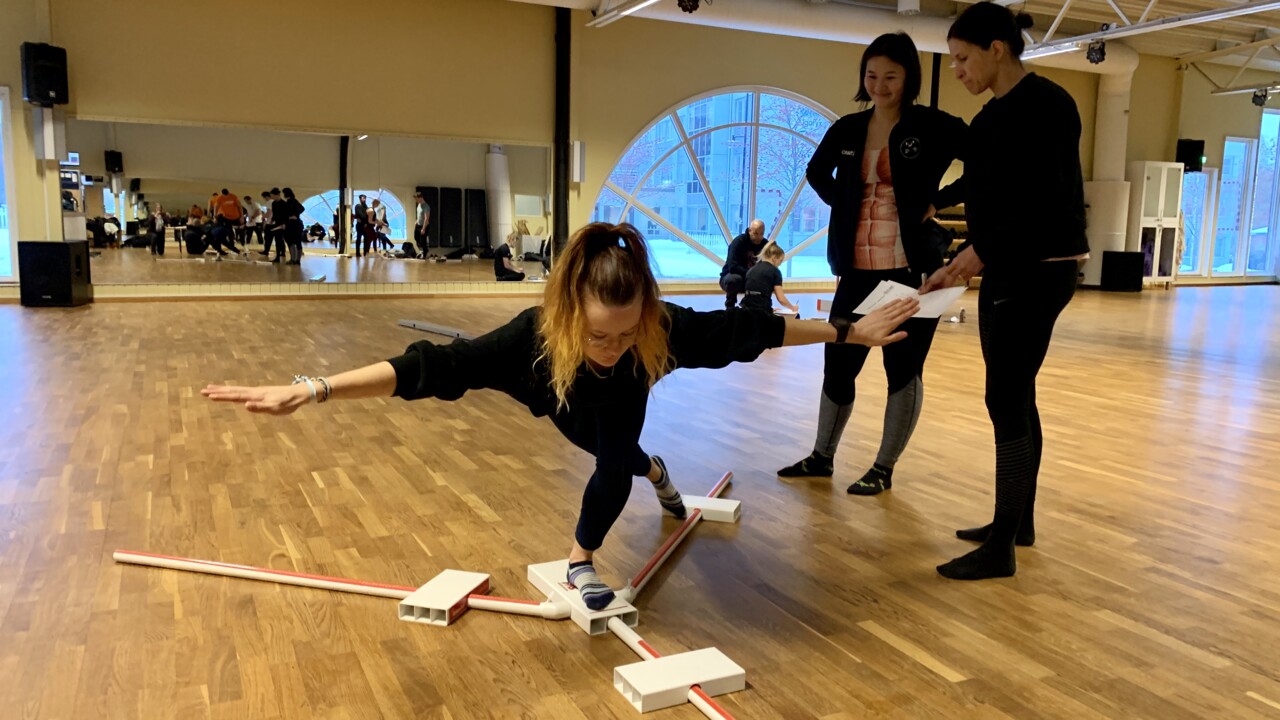 Y Balance Test - analyze movements, asymmetries in motion and muscle-strength.
Image
Kajsa Gilenstam
Practical in the Exercise Lab
The exercise physiology program leads to a bachelor's degree in medicine with Sports Medicine as major.
During the programme, students learn to conduct, analyze and interpret the results from various physical fitness assessments such as functional mobility, movement patterns, muscle strength, and oxygen uptake.
During the three years of the training, a lot of time will be spent in a completely newly built lab – UMEX, Umeå Movement and Exercise Laboratory. There, students will for example learn to:
analyze movement patterns, asymmetries in mobility and muscle strength and based on this design training programs and instruct corrective exercise
analyze movement and loading patterns during running, jumping, weightlifting and powerlifting
measure lactate, during cardio tests to investigate how the energy systems in the body work and adapt to exercise or inactivity
measure functional strength to develop work capacity and prevent problems related to overload
UMEX is divided into a student lab and a research lab. The research section has advanced equipment to measure oxygen absorption, muscle strength and blood analysis. Students have the opportunity to participate in research projects during training and get an insight into medical research.
Educational leadership
In addition to medical knowledge, included in the programme are elements of educational leadership, both theoretical and practical. Practical tasks, for example, can be about instructing in a gym. Sports psychology, which is also included, strengthens the competence to lead individuals and groups.
"It is not enough, as a leader, to have the right knowledge, leaders must also be able to communicate that knowledge to others. In the new program, students will train on just that, within the scope of sports and health activities", says Kajsa Gilenstam, senior lecturer and researcher at the programme.
Future career without boundaries
Instruction in the third semester is entirely in English, enabling studies abroad as well as for students from other partner universities to come to Umeå University. There are further opportunities for studies abroad during later terms, especially during thesis courses.
Exercise physiologist is an established field in many countries and this means that the entire world is a potential play-field for future career. The programme therefore has a strong international focus, with world-class research incorporated.

Exercise Physiology Programme page (in Swedish)