New FairTax results presented at NOeG-SEA 2016
NEWS On May 28, 2016, FairTax researchers Alexander Krenek and Marian Dobranschi presented the paper "EU Taxes as Genuine Own Resource to Finance the EU Budget – Pros, Cons and Sustainability-oriented Criteria to Evaluate Potential Tax Candidates".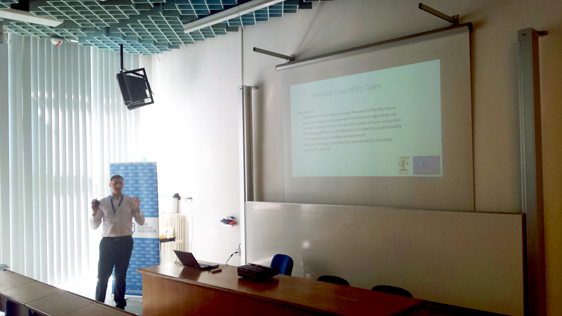 The paper was presented at the Joint Annual Meeting of the Slovak Economic Association and the Austrian Economic Association (NOeG-SEA 2016) in cooperation with the University of Economics in Bratislava, Slovakia. The paper is co-authored by Margit Schratzenstaller, Alexander Krenek, Danuše Nerudová and Marian Dobranschi.
The presentation was followed by an interesting discussion where Alexander Krenek and Marian Dobranschi argued that a Financial Transaction Tax, a corporate income tax and a carbon-based tax on the aviation sector would represent viable candidates for EU taxes to finance the EU budget.
Editor: Elin Andersson