Published: 15 Mar, 2019
Updated: 25 Jul, 2019, 10:43
Prestigious medal to molecular biologist at Umeå University
NEWS The Swedish Mass Spectrometry Society, SMSS, assigns the silver medal to Berzelius's memory to molecular biologist Anders Nordström, Umeå University, Sweden, for his contribution to the development of modern metabolomics research.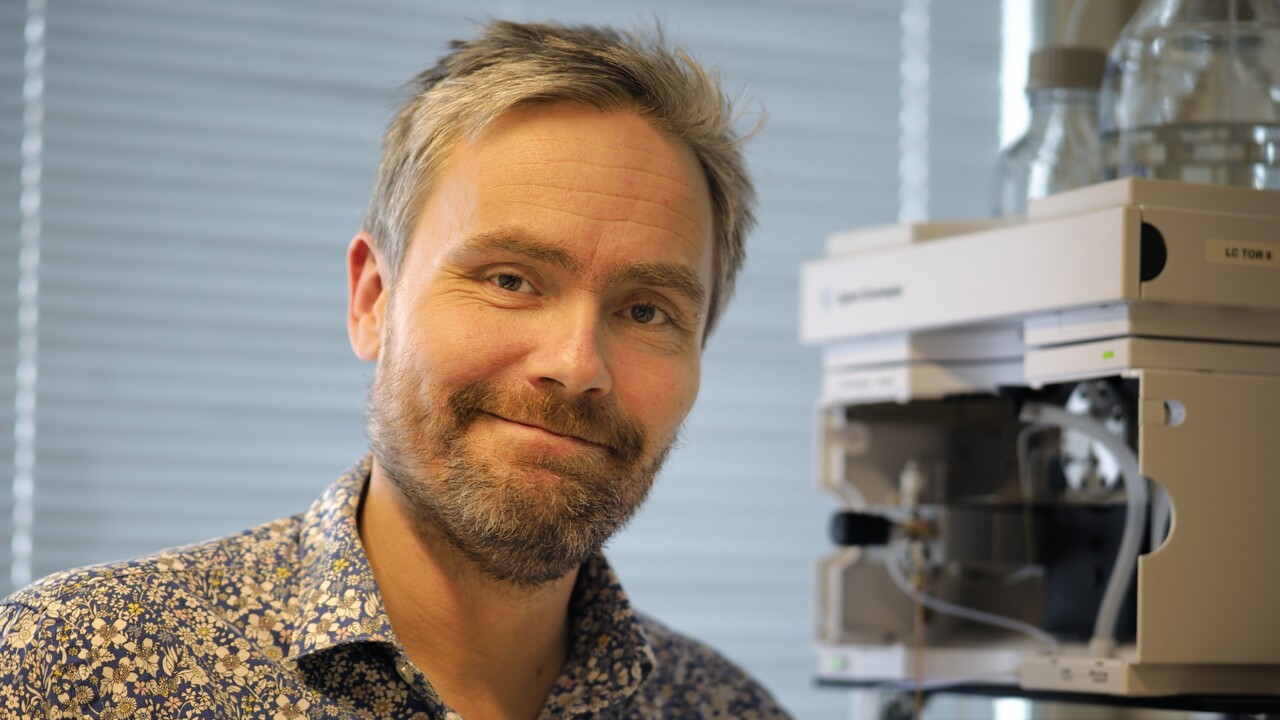 Anders Nordström, Department of Molecular Biology, Umeå University.
Image
Thomas Kieselbach, All rights reserved by Thomas Kieselbach
"I'm very happy for the medal! It feels great that metabolomics gets attention" says Anders Nordström, senior lecturer at the Department of Molecular Biology at Umeå University.
Anders Nordström is deputy director of the Swedish Metabolomics Centre at Umeå University. It is a national infrastructure that provides service to Swedish researchers who want to make metabolic analyzes. Metabolomics can be described as a way of studying all metabolites, that is, small molecules in a biological sample, in a single chemical analysis.
The mapping of man's entire genome was a starting point for the development of the research area metabolomics. For the first time, it became possible to use genetics to understand issues of metabolism in an overall perspective. Anders Nordström has been active and contributed in various parts of this research field since the beginning of his career.
Between 2000 and 2004, he obtained his PhD at the Swedish University for Agricultural Sciences, SLU, in Umeå, and learned during his work with plant hormones about the major challenges that modern metabolomics faced in the early years. At that time there was no commercial software available to evaluate data from metabolic experiments, and the research groups developed their own programmes for the purpose. The first commercial software for metabolomics did not come until the end of the 2000s.
An important breakthrough for the development of chromatographic separations in metabolomic studies was the Hydrophilic Interaction Liquid Chromatography technique, HILIC, and Anders Nordström has put a lot of energy into developing and using HILIC for measuring water-soluble metabolites.
Today, Anders Nordström is investigating cancer and drug resistance.
"I am convinced that the future solution for curing cancer lies in the metabolic world. I therefore believe that the altered metabolism is a fundamental aspect of the tumor's biology. For example, it is evident from cancer cells' great need for glucose, which is used in the healthcare sector for PET camera surveys" he says.

The medal handover took place at the SMSS Annual symposium on 12 March.
Read more about Swedish Metabolomics Centre at Umeå University


Biography
Anders Nordström was born in 1974 and grew up in Piteå. He holds an undergraduate degree in chemistry from Umeå University in 2000. He received his PhD in forest genetics and plant physiology in greenhouse hormone analysis in 2004 at SLU and then held a postdoctoral position at the Scripps Research Center in the USA 2004-2007. He was subsequently employed as a research assistant at Karolinska Institutet in 2008 and has since 2011 been a senior lecturer at the Department of Molecular Biology at Umeå University.

About the Swedish Chemistry Society:
The Swedish Chemistry Society, which is the gathering force of Swedish chemistry, captures all the passion that exists for the subject and directs it outwards. The Swedish Chemistry Society has subject-oriented sections, one of which is the Swedish Mass Spectrometry Society (SMSS).
The Swedish Mass Spectrometry Society's medal to Berzelius' honor was founded on the occasion of the association's 30th anniversary 2014.
https://kemisamfundet.se/
For more information, please contact:

Anders Nordström, Department of Molecular Biology at Umeå University
Telephone: +46 90 785 25 61
Email: anders.nordstrom@umu.se