Research improves efficiency of small-scale cloud datacentres
NEWS Mobile Edge Clouds is a novel architecture where small-scale cloud datacentres are added at the edge of a mobile network close to the users, unifying management and control of access to network with the resources at the edge, and the large-scale remote datacentres. In his doctoral dissertation at Umeå University, Chanh Nguyen has developed techniques and methods to help improving the efficiency of resource allocation in MECs.
Text:
Ingrid Söderbergh och Mikael Hansson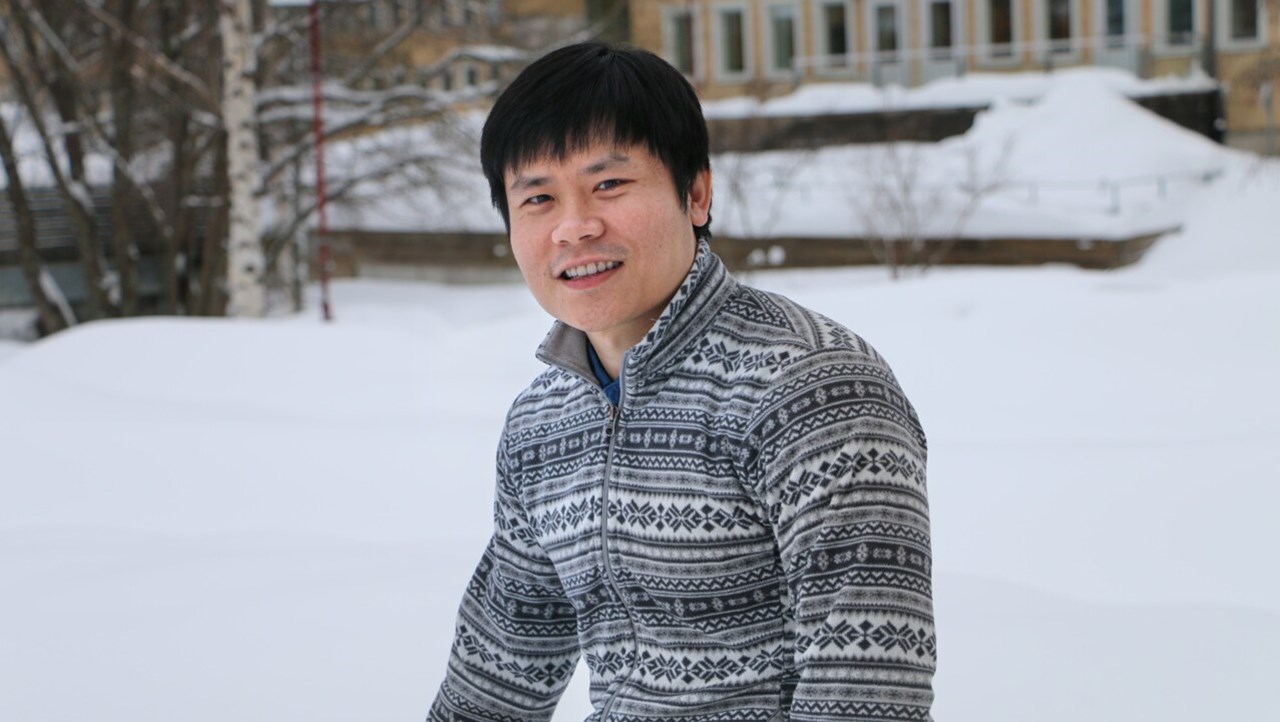 Chanh Nguyen, PhD student at the Department of Computing Sciences
Image
Mikael Hansson
The future networked society will radically change the way we innovate, collaborate, and socialize. Already today, the limited computing and storage capacity of end-user devices – such as smartphones, desktops and laptops – are complemented by remote cloud datacenters. However, fundamental communication limitations restrict the kind of interactive and real-time applications that today's clouds could support.
The covid-19 pandemic and the resultant global lockdowns that led organizations and people to change the way to work and connect are good examples. The sudden and dramatic increasing demand for high-speed networks is accelerating at an unprecedented rate. To ease network traffic, some service providers had to reduce their service quality (for example, Netflix reduced the quality of its video stream to alleviate traffic on European networks). Another example, the performance of human-computer applications such as virtual reality and augmented reality applications are very sensitive to the network latency, while the current network latencies between end-users and remote cloud datacentres are too high.
This has provoked a paradigm shift leading to the emergence of new distributed computing infrastructures known as Mobile Edge Clouds in which resource capabilities are widely distributed at the edge of the network, in close proximity to end-users.
Thanks to such highly geographical resource distribution, MECs are capable of providing services with high bandwidth and low latency. Moreover, MECs with edge servers located in the vicinity of end-users can serve as privacy firewalls, which enable users to dynamically and selectively control the release of sensitive information from sensors to the cloud.
However, MECs must cope with several challenges not commonly encountered in traditional cloud systems, including user mobility, hardware heterogeneity, and considerable flexibility in terms of where computing capacity can be used. This makes it especially difficult to analyse, and control resource usage and allocation so as to minimize cost and maximize performance while delivering the expected end-user experience.
In his thesis, Chanh Nguyen defines models and algorithms for handling resource allocation challenges in a heterogeneous MEC environment.
"I modelled the application and system performance, and designed different resource allocation for MECs. The extensive evaluation with the simulated testbeds and emulated systems show that the proposed approaches outperformed alternative state-of-the-art approaches and could thus help improve the efficiency of resource allocation," says Chanh Nguyen.
The doctoral thesis was funded by the Wallenberg Artificial Intelligence, Autonomous Systems and Software Program (WASP).
Chanh Nguyen is originally from Hue city, in the central Viet Nam. He holds a bachelor's degree in Computer Science from Ho Chi Minh city University of Technology, Viet Nam, and a master's degree in Computer Science from Tsinghua University, Peking, China.
Press photo. Credit: Mikael Hansson
About the dissertation:
On Wednesday 17 February, Chanh Nguyen, Department of Computing Science at Umeå University, will defend his dissertation entitled: Location-aware Resource Allocation in Mobile Edge Clouds.
The dissertation will take place at 13.00 in Aula Biologica seminar room, Umeå University.
The faculty opponent is Professor Maarten Van Steen, University of Twente, the Netherlands.
Supervisors are Professor Erik Elmroth and Dr. Cristian Klein, Department of Computing Science at Umeå University.