The USBE Scientific Awards 2019
NEWS USBE Research Institute introduced the USBE Scientific Awards in Business Administration, Economics and Statistics in 2017. The idea behind the scientific awards is to celebrate scientific writing and to distinguish high-quality research in the field of the listed disciplines. The prizes are handed out at the Graduation Ceremony, June 5th.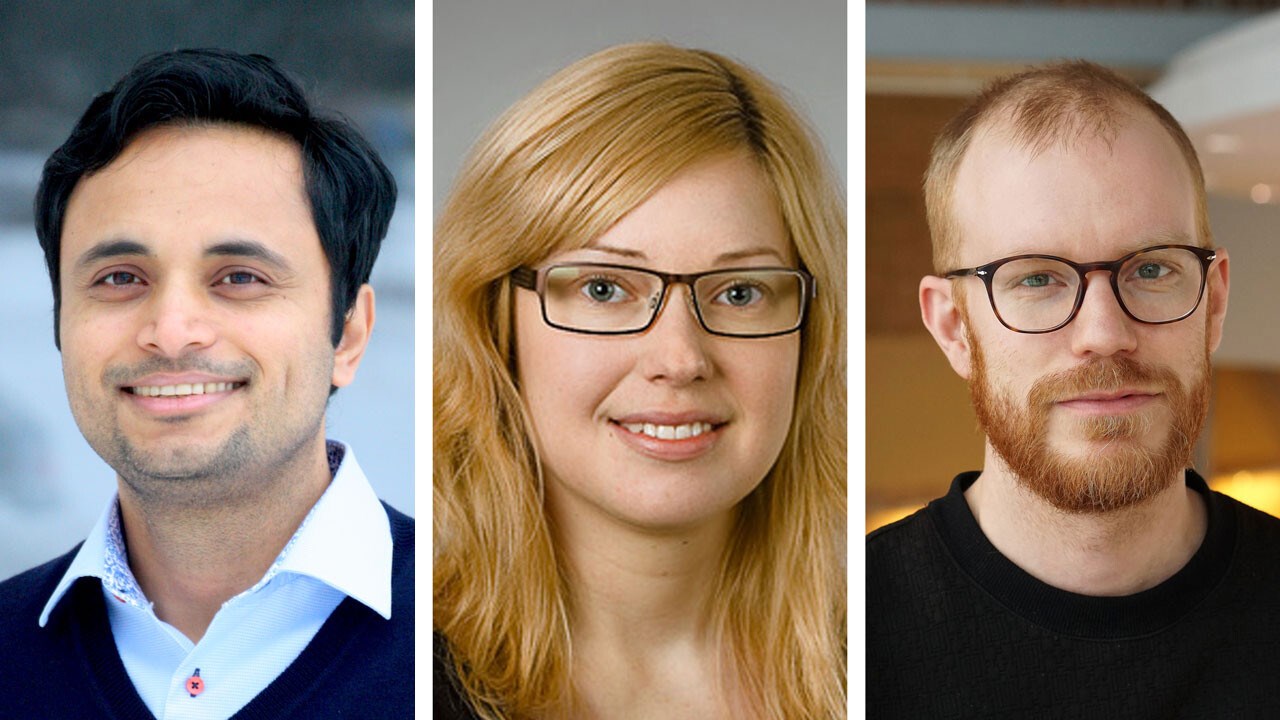 Tatbeeq Raza Ullah, Emma Persson, Mattias Vesterberg
Photo
Asim Mehmood, Mattias Pettersson, Rickard Lindberg
Tatbeeq Raza Ullah is the recipient of the 2019 USBE Scientific Award in Business Administration.
Tatbeeq Raza Ullah has demonstrated an outstanding research output after the dissertation. He has several publications that were not included in the dissertation in good quality journals and with international publishers. He has also received competitive funding from Wallander foundation for a continued research career. He is embedded locally within the school's research environment, and with leading international scholars. While the award is not considering past and forthcoming achievements doctor Raza Ullah has shown past performance and a potential for future contributions in his field.
Tatbeeq's research lies at the intersection of strategy, psychology, and paradox theory. He studies the implications of cognitive and emotional ambivalence, the role of Top Management Team diversity, trust and distrust, and capabilities in strategic coopetition (i.e., inter-firm relationships that embed the paradox of simultaneous competition and cooperation). His research has appeared/ forthcoming in prestigious international journals such as Industrial Marketing Management, Long Range Planning, and Strategic Management Review. One of his papers has crossed 200 citations.
Emma Persson is the recipient of the 2019 USBE Scientific Award in Statistics
Emma Persson is nominated for her innovative research results in the areas of causal inference and case control designs. She has, e.g., developed new methods that allow researchers to reuse case control data for other purposes than the case control design was originally intended for. She has also implemented and applied these new methods to study the effect of children diabetes (type 1) on school performance.
Mattias Vesterberg is the recipient of the 2019 USBE Scientific Award in Economics
Mattias Vesterberg is nominated for his research in environmental and resource economics and has published well in high ranked international journal. Mattias is currently funded by a Wallander scholarship, and was previously funded by a Energimyndigheten SamspEL research grant and a Handelsbanken research project grant. His dissertation was partly funded and based on business data from a local energy firm, and he his currently working using data from another electricity distributor and he has developed a list of contact in the industry which will make his research very relevant in the long run. Mattias is enthusiastic about his work, and he is willing to expand much effort to make the work shine, get more data, re-analyse, learn new methods, think about new problems.
Congratulations!