Umeå School of Architecture releases its first international publication
NEWS Umeå School of Architecture, UMA, at Umeå university launches the first international publication. The book Intravention, Duration, Effects: Notes of Expansive Sites and Relational Architectures is a carefully edited collection of work and research produced at the Laboratory of Immediate Architectural Intervention, LiAi.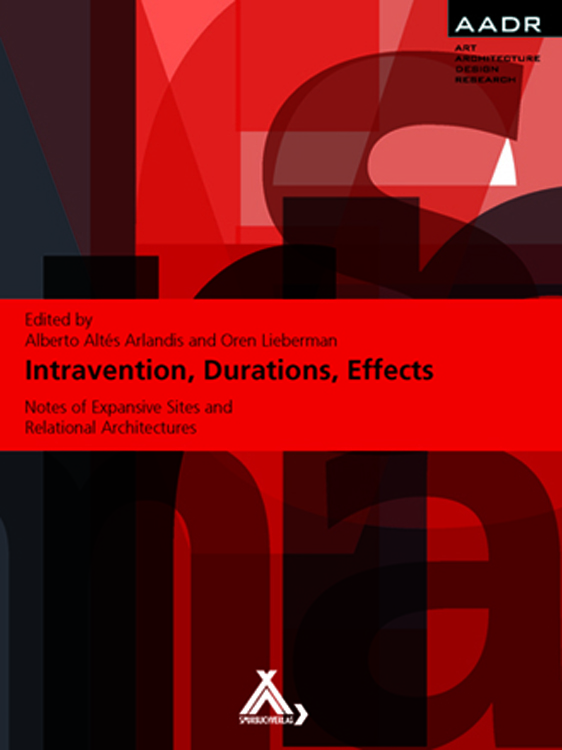 – The book has been a lot of work but it's been absolutely worth the effort; developing the conceptual and theoretical foundations of this new master's programme was paramount, since we are proposing an alternative approach to architecture and architectural education that we think is urgent today, and that we want to carry on rehearsing and applying, says Alberto Altés, teacher at UMA. UMA has provided the perfect creative and critical environment to develop such research and the opportunity to collaborate with a diverse range of extraordinary thinkers and practitioners both from Sweden and abroad. I am very proud of being part of such an institution, and extremely thankful to everyone involved in the process of making both the LiAi and the book.
The title of the book is Intravention, Duration, Effects: Notes of Expansive Sites and Relational Architectures. It has been co-edited by Alberto Altés and Oren Lieberman, teachers and researchers at Umeå School of Architecture. Together they share the direction of LiAi, an experimental laboratory within the school's master programme in Immediate Architectural Intervention. The programme is characterized by an interdisciplinary and relational approach to spatial practises and aims at the tranformation of the city in real time and place, educating architects that "care" and that are fully aware of the social, political and ethical implications of their actions, research and work.
The publication has been supported by the Swedish research council FORMAS through the strong research environment "Architecture in Effect". It includes short texts, architectural manifestos, research papers, interviews, conversations and a reflective journey through the work produces at the laboratory.
In the first part LiAi is presented through the point of view of its directors and some o fits key contributors. The second part offers an overview of the work produced at the laboratory between July 2011 and July 2013 through graphic material (photos and drawings) followed by a reflective discussion. The part shifts outwards and gathers contributions of some of the external guests whose commited participation has made the laboratory possible. This part includes texts by among others Susan Kelly, Javier Rodrigo, Antonio Collados, Aida Sánchez de Serdio and Per Nilsson. The book ends with a text by Alberto Altés on the notions of the concepts sharing, displacing and caring.
The book is launched with a seminar on Tuesday September 17 at 5 pm in the assembly hall at Umeå school of Architecture. The event is open to the public. There will be short statements by the editors, authors and publishers, followed by refreshments and the book will be available for purchase at a discounted price.
More about education at Umeå school of Architecture
For more information, please contact:
Alberto Altés, teacher at Umeå School of ArchitecturePhone: +4690 786 67 51, +4670 286 46 68
E-mail: alberto.altes@arch.umu.se
Editor: Anna-Lena Lindskog