Want to have trout, char and salmon to thrive as fish in the water
NEWS When others begin to wind down for their annual leave, the mad for fishing- doctoral students Johan Leander and Sven Norman usually go into an intense period out in the field – where experimental data will be collected, and then processed in the office of the Department of Ecology and Environmental Sciences (EMG) during the long winter months.
The time is 22:30; today's work has just finished without mishaps, the tent is erected, and a bit of packing space has been allocated to a few beers that have been chilled in a mountain stream while working. This is how the end of a day in the field can look like for Sven Norman, who is a doctoral student in the Industrial Doctoral School for Research and Innovation and affiliated with the Department of Ecology and Environmental Sciences at Umeå University.
Climate change can really affect fish
Sven Norman is studying what governs the production of trout and Arctic char in mountain lakes today, and how they are affected by climate change. All doctoral students at the Industrial Doctoral School for Research and Innovation have an external party that funds one-half of their educational programme. Sven Norman therefore works together with the county administrative boards in Norrbotten, Västerbotten and Jämtland, as they have an interest in improving their knowledge of how to manage their mountain lakes over the long term.
"What I hope to contribute with is a better understanding of what governs how many fish is produced in mountain lakes. This knowledge can then be used to determine sustainable levels of fishing for fish. It is also important to study how subarctic warming will affect fish stocks directly and indirectly – something that should be taken into account when considering the sustainability of fishing in a long perspective," observes Sven Norman, who is in his third year as a doctoral student.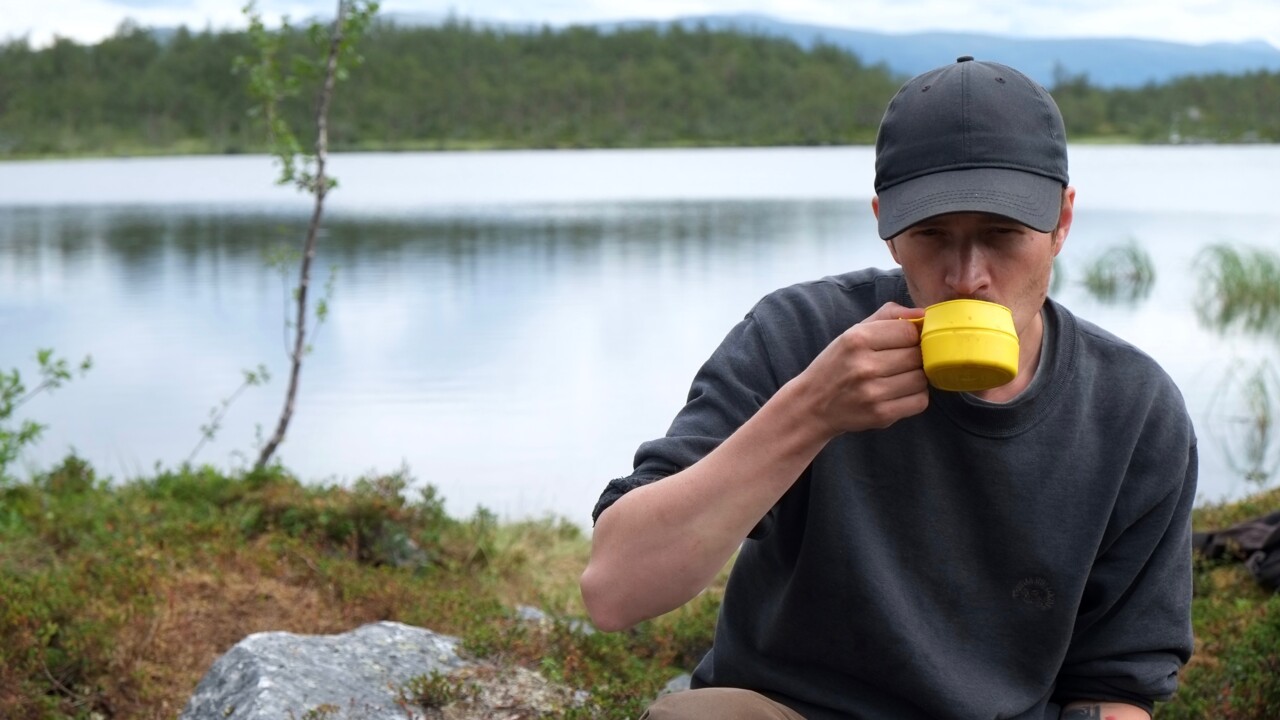 PhD student Sven Norman taking a coffee break.
Image
Yrsa Landström
Taking of specimens in lakes
So far, he has taken specimens in 40 mountain lakes, scattered between southwestern Jämtland up to Abisko in northern Norrbotten. For the past three field seasons, he has focused on about 13 lakes each year, where he estimates, among other things, the size of primary production that is the base of the food chain in a sea ecosystem, the water's nutrient content and the temperature of the water. In addition, the fact that there is equipment that can remain in the lake throughout the ice-free season (temperature and oxygen loggers, for example), means that he visits the lakes 4-5 times during the summer to take specimens of i.a. zooplankton and insect larvae that make up the most important food resources for fish.
"On each occasion, we take one specimen of the fish population per lake via a standardised sample fish that can provide answers to how much fish is in the lake and which sizes of the fish are most common. We can then, via laboratory analyses of the fish, determine what type of food they eat and how quickly they grow in the various lakes," explains Sven Norman.
Sustainable mountain fishing
So far, no analysis has been completed, but a preliminary assessment is that the limited net fishing, such as Sámi villages or other private fishing owners have the right to do, seems to be done in a sustainable way.
"At least at first glance, we have not seen any differences in these fished stocks compared to unfished stocks. However, some analyses remain to be done before we can definitely proclaim fishing sustainably," comments Sven Norman.
As he sees it, beyond that mountain lakes are of course, are worthy of protection if only for their own sake, we should not be afraid to use this fantastic resource. A large part of mountain tourism today includes in one manner or another fishing or hunting and the County Administrative Boards have a responsibility to ensure that this is done in a sustainable way. Something that, on the other hand, complicates matters is that presently we have not really had the tools to be able to easily measure whether fishing in mountain lakes is actually done in a sustainable way plus the resources to verify that fishing rules are actually being complied with is also limited.
Fish – his greater interest
This year Johan Leander won't be conducting any field studies – due to that he is on parental leave with his little son Axel.
"It will be one last effort next year. The really most fun thing I enjoy about my "job" is getting to work with fish, which is my greatest interest. It is also a wonderfully satisfying feeling to get the data back and see that what one planned a year earlier, and spent long weeks in the field to perform in practical terms, actually generated new information about the behaviour of fish," remarks Johan Leander, doctoral student at the Industrial Doctoral School for Research and Innovation who is also affiliated with the Department of Ecology and Environmental Sciences (EMG) at Umeå University.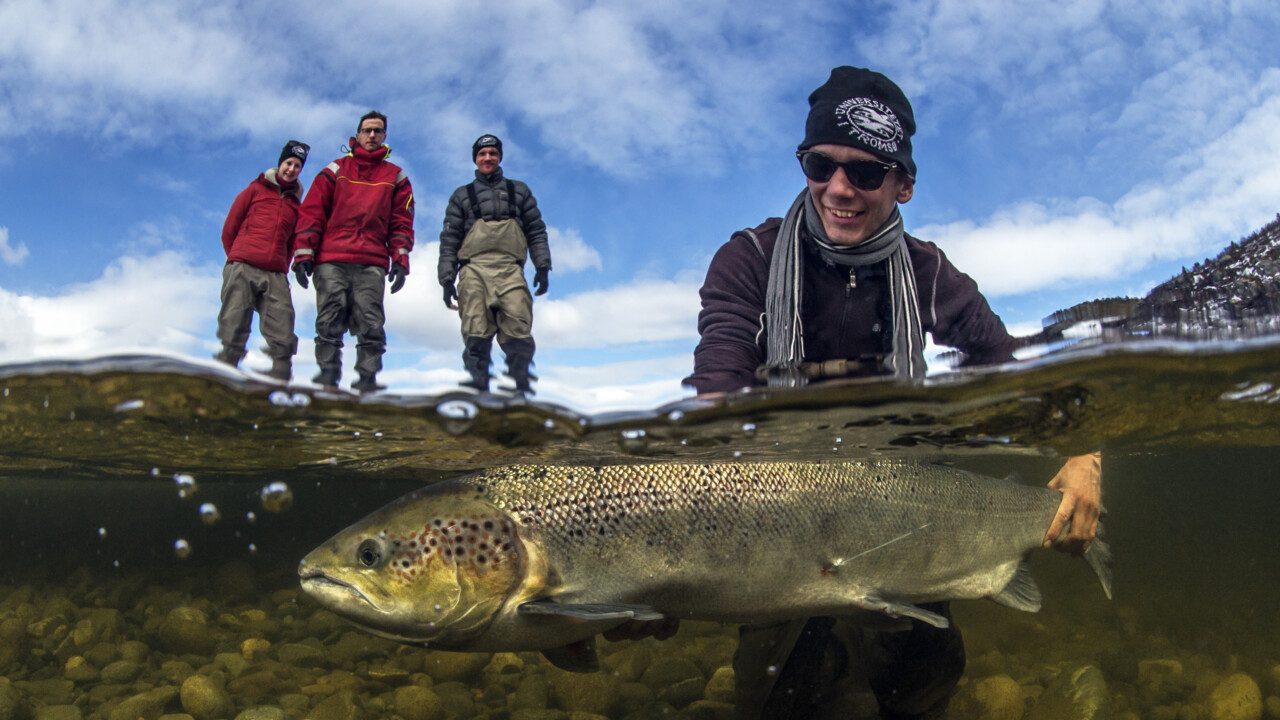 PhD student Johan Leander is doing research about the movements of salmon.
Image
Audun Rikardsen
His research deals with how hydropower affects salmon's migration between reproduction areas in rivers and their main growth out in the ocean. He focuses primarily on the downstream migration that the Atlantic salmon engage in both as fry and adult fish. Vattenfall AB participates as an external party, who by financing the project in part, will learn from knowledge of the movements of fish at hydroelectric plants and how best to improve the chances of gentler fish passages in the future.
Guide the salmon to an alternative route
Via laboratory experiments in stream water aquariums at SLU in Älvkarleby and detailed telemetry studies in regulated rivers, Johan Leander studies the possibilities of guiding salmon to alternative routes around hydropower plants. In his fieldwork, mostly he stays at Stornorrfors Hydroelectric Power Station, in the lower Ume and Vindel Älven.
Acoustic telemetry means that the researchers use sound waves, and the equipment consists of two devices: a transmitter operated into the fish and hydrophones placed in strategic locations in the river for the purpose of detecting the signals from the transmitters provided by the fishermen as detailed as possible.
"A huge advantage of this method is that we do not need to retrieve the fish with transmitters, all the data is saved and stored in the hydrophones which we pick up and read from at the end of the study on a computer. It takes a lot of effort to set-up the system in the river, but in return we get very high-resolution data on the fish positions every second with under one metre margin of error.
The first results suggest that with the assistance of modern technology we can evaluate old, and half-forgotten, methods of controlling downstream migratory fish. Bubble barriers to guide fish have in recent years been disregarded to large extent, however Johan Leander has seen promising results with this method.
Bubble barriers are created by pumping air into a hose perforated with many small holes, where the air bubbles out and creates a cohesive curtain of bubbles throughout the water column.
"Right now, we are trying to figure out what mechanisms will cause the fish to avoid such a barrier, in order to optimise it as best as possible.
The weather is challenging
"The most difficult thing about working in the field is that we always have to constantly adapt to the fish. A detailed schedule from February doesn't have so much value much when spring arrives early and the fish wander out earlier than expected. When this happens, it is very important to be able to adapt quickly to the situation," notes Johan Leander.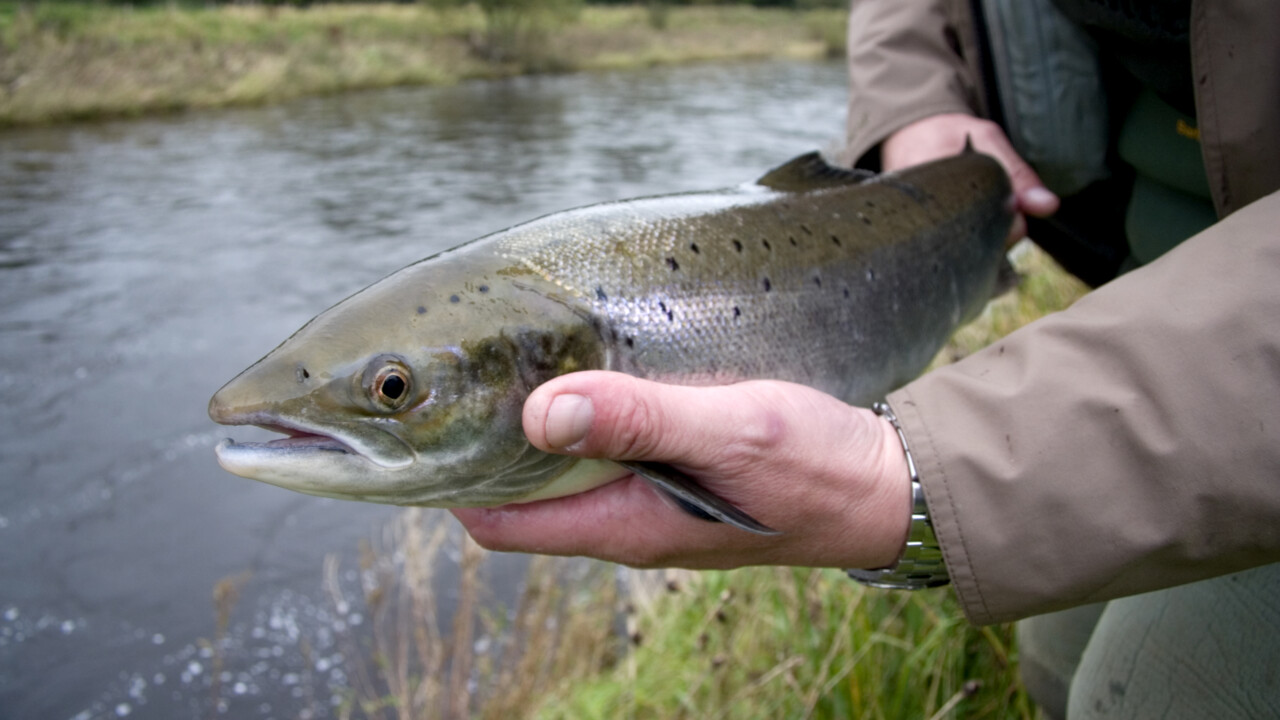 Close-up photo of a salmon-
Image
Mostphotos/Jason Baxter
About the Industrial Doctoral School for Research and Innovation
The Industrial Doctoral School was founded in 2008 and is based on collaboration between universities, researchers and companies or organisations. It aims to combine scientific excellence with benefits for both society and the collaborating organisation. Together, a long-term collaboration is established, based around a problem that requires exploration. The doctoral student also receives a customised academic course package. The Industrial Doctoral School is open to all areas of research, and the doctoral student is employed at Umeå University.