Translational B cell immunology
Research group Translational B cell immunology: Activation of the humoral immune system and subsequent production of neutralizing antibodies is a key player for host defense against microbial infections. Our overall research focus is to characterize how human B cells in circulation and tissues are affected by underlying disease, and how this information can be used to develop recombinant antibody-based treatments against virus infections.
Research strategy
We focus on basic and applied human B cell immunology and pursue our research in close collaboration with the Region Västerbotten and the University Hospital of Northern Sweden. This translational setting allows us to study primary immune cells in blood and tissues from healthy individuals and selected patient groups. Currently, our projects focus on hantavirus and HIV-1 infections, influenza vaccination and tonsillar hypertrophy.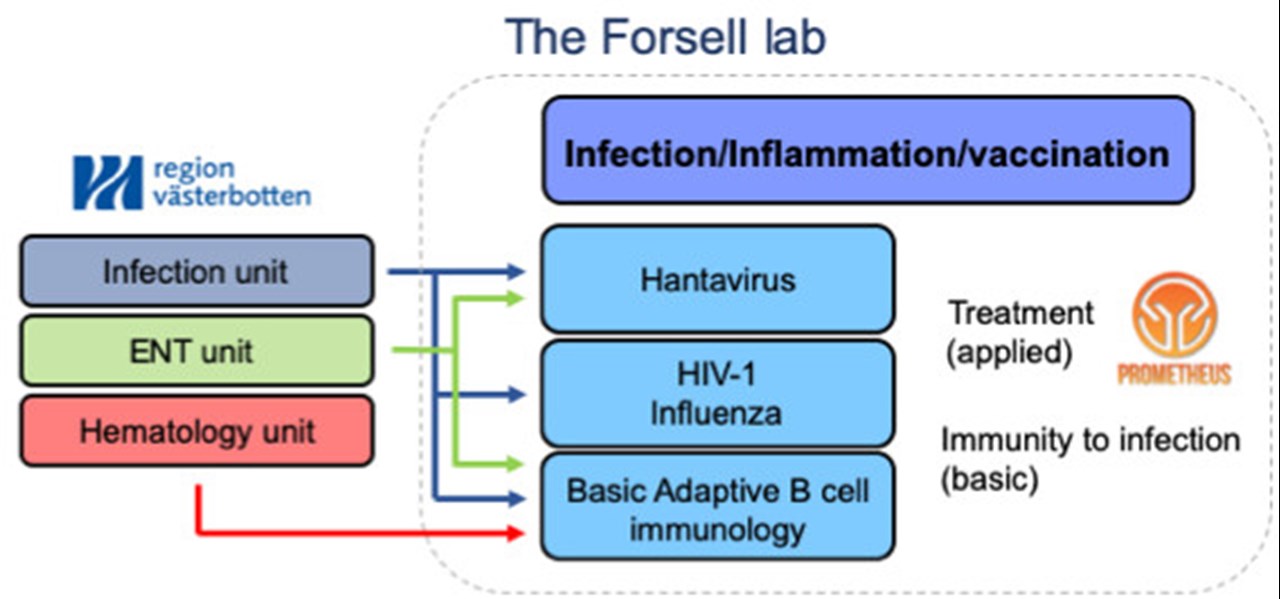 Research chart on Mattias Forsell's project
Photo
Department of Clinical Microbiology
Projects
Modulation of humoral immunity during hemorrhagic fever with renal syndrome (HFRS) and development of novel antiviral therapeutics. The purpose of the project is to contribute towards the development of novel antiviral therapy against human hantavirus infections. Umeå is an endemic area for infections with the Puumala-strain hantavirus and therefore one of the few places in the world where it is possible to perform translational studies of immune responses and pathogenesis to the infection. Specifically, we study how the hantavirus infection affects the humoral immune system and the development of antiviral B cells, and utilize this information to develop a potential treatment for hantavirus-induced HFRS. This project is part of the international Prometheus Center for Excellence in Translational Research (U19 AI142777), funded by NIAID, NIH, USA.

Understanding the impact on underlying HIV-1 disease on vaccine-induced B cell responses. This project specifically aims to reveal if current influenza vaccination regimens is sufficient to generate potent and longitudinal immunity to influenza in HIV-1 patients, and to understand if immune memory formation is affected by the underlying disease. To achieve this, we dissect the polyclonal B cell population into antigen-specific sub-populations. This allows us to study longitudinal development of influenza specific B cells from the initial activation to long-term B cell memory formation and maintenance in HIV-1 patients after the annual influenza vaccination.

The life and death of adaptive humoral immunity: from tissue to circulation, and back. Adaptive immune responses in humans are generally investigated by characterization of the peripheral B cell compartment in circulation. Here, we focus on basic investigations of adaptive B cell responses to gain a better understanding of how immune reactions in secondary lymphoid organs is reflected by an altered B cell compartment in the circulation of patients.
Recruitment
If you are interested in joining our team as postdoc, PhD or undergraduate student, please contact Mattias Forsell.
Public outreach: The Forsell group in the media
The Prometheus Center for Excellence in Translational Research
2. Vaccines and vaccination
Funding bodies
National Institutes of Health, U19 Center of Excellence in Translational Research
Umeå University, start up grant
Svenska Läkare mot AIDS
Svenska Läkarsällskapet
Insamlingsstiftelserna, Umu
Cancerforskningsfonden i Norrland
Head of research
Overview