U-Motion Laboratory Research Group
Research group Our research aims to evaluate and improve human sensorimotor control in individuals with a range of musculoskeletal or neurological injuries and diseases. The multi-professional research group at the U-motion laboratory, Department of Community Medicine and Rehabilitation; Physiotherapy, is headed by Professor Charlotte Häger, in close collaboration with Associate Professor Helena Grip, Medical Engineering and Dr Lina Schelin, Statistics.
The core facility for our research is the U-motion laboratory, where equipment includes an advanced integrated system comprising of 3D motion analysis cameras to capture movements (kinematics), force platforms to analyse ground reaction forces for moments of force and powers around joints (kinetics), and electromyography (EMG) to register muscle activity. An auto-follow rail camera also allows continuous 2D video recordings of movements from the side as persons move through the room (e.g., during gait). An Ergotrainer is mounted in the ceiling for body-weight supported gait or other movements.
Our research projects also involve methods such as muscle strength testing using various dynamometers, physical activity monitoring, clinical assessments/tests, qualitative studies and surveys. The projects target a range of different study populations with musculoskeletal and/or neurological conditions, such as people with injury of the anterior cruciate ligament, knee osteoarthritis, patellofemoral pain, neck or low back pain, stroke and cerebral palsy.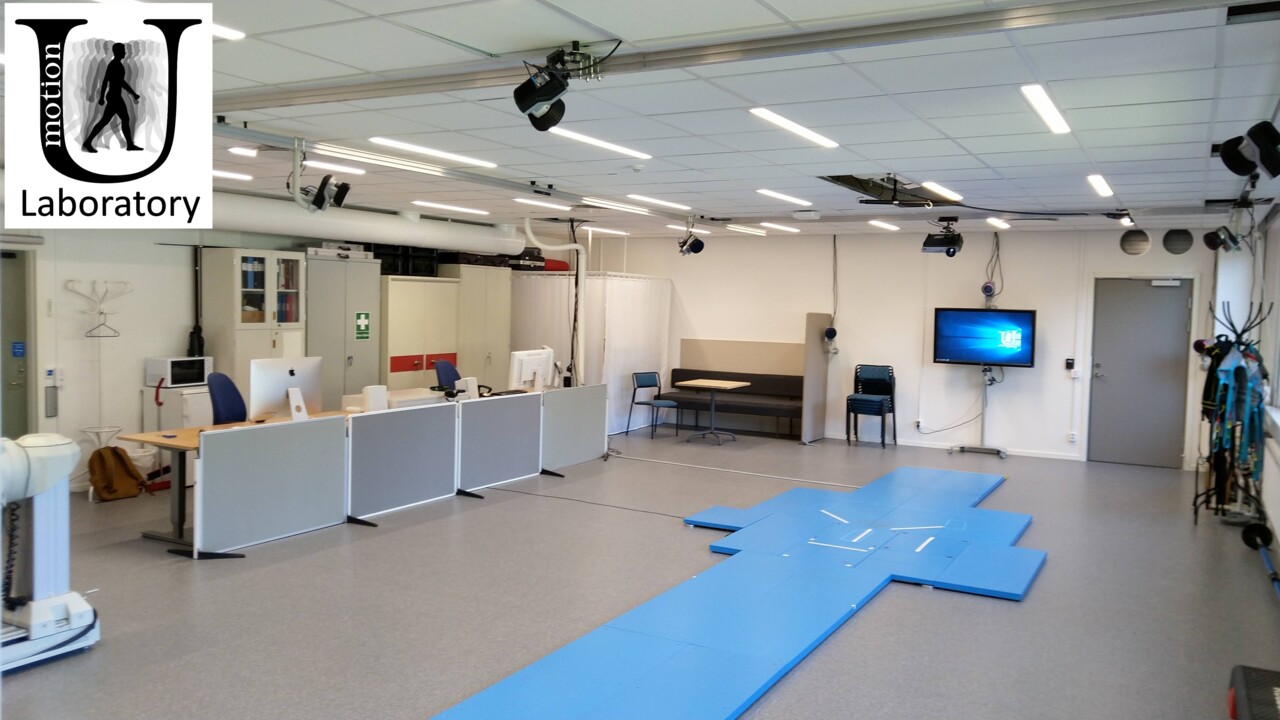 U-motion laboratory
Photo
Jonas Selling
Click here for a video presentation of our research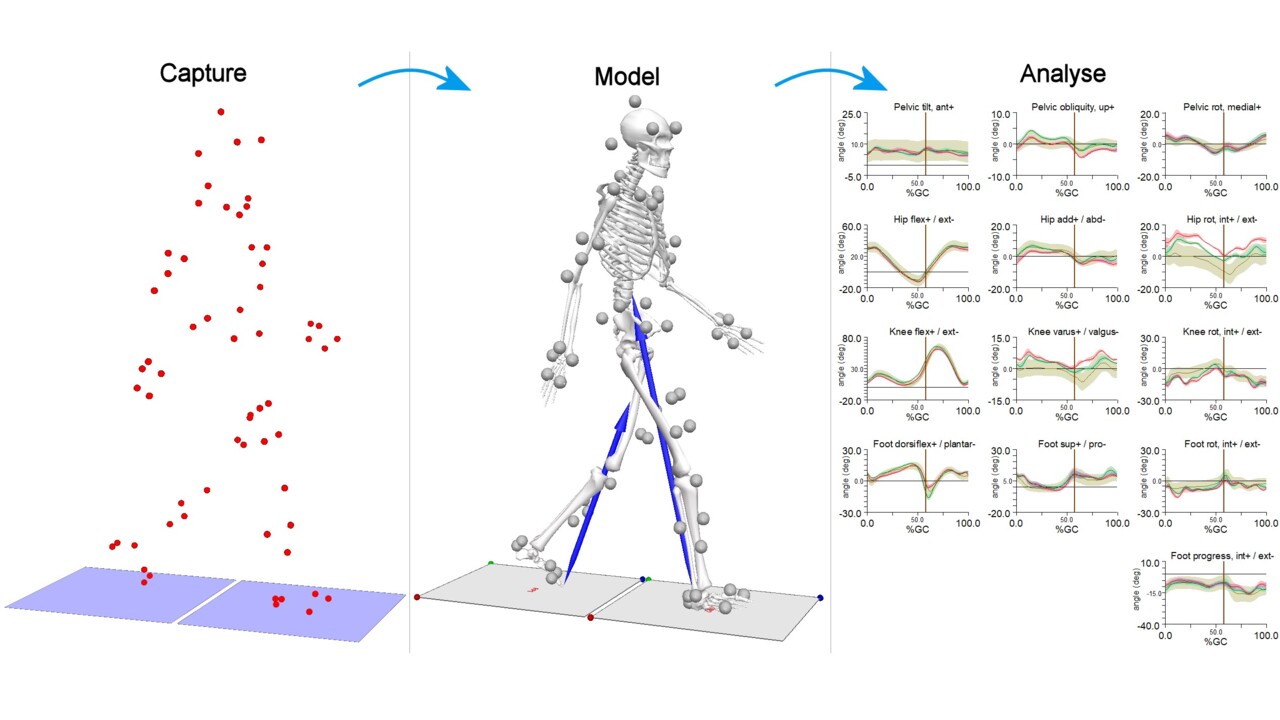 Gait analysis with the motion capture system illustrating the position of markers attached to the body (Capture), the body model created based on individual anthropometric information (Model) and resulting curves of movements of joints in the lower body (Analyse). Such information is relevant both for detailed evaluation of joint movements and gait in clinics and in research. See for instance Nedergård, Schelin, Frykberg & Häger 2020.
Photo
Jonas Selling
Our research, particularly analyses of whole-body movements, generates vast and complex data. We therefore also develop advanced statistical analyses for more comprehensive interpretation of human movements and performance in healthy and pathological conditions.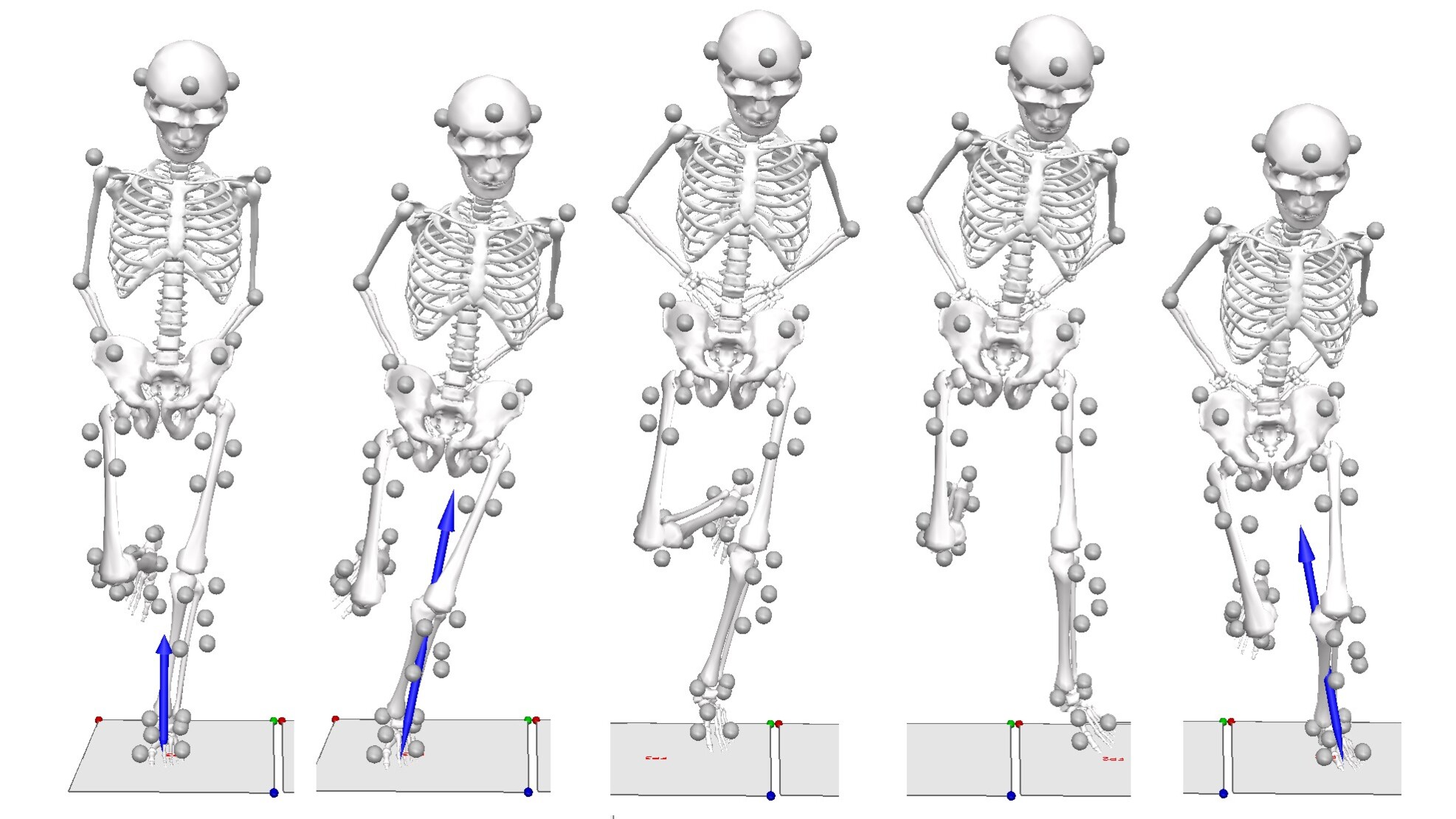 A standardised rebound side hop developed for kinematic analysis of knee function for athletic performance evaluation or following injury of the anterior cruciate ligament (Markström, Schelin & Häger 2018; Markström, Grip, Schelin & Häger 2019; Markström, Grip, Schelin & Häger 2020)
Photo
Jonas Selling
In collaboration with Umeå center for Functional Brain Imaging (UFBI), we also utilise their magnetic resonance imaging scanner to investigate brain activity in relation to movement control by using a 3D motion analysis system specially designed for the MR environment. This setup is available to very few research groups in the world and enables us to improve our understanding of the central processes associated with sensorimotor control.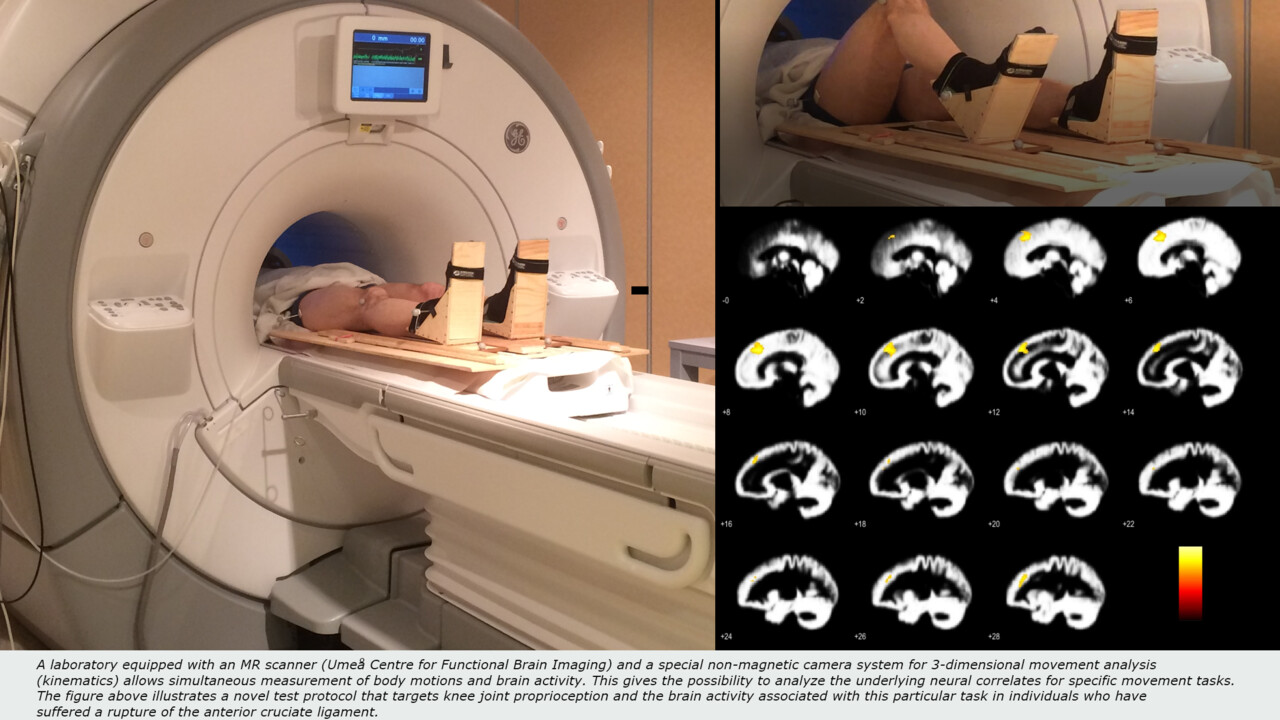 fMRI-measurement
Photo
Charlotte Häger
Contact
Please contact us if you are interested in collaboration, using the facilities in your research or for clinical purposes such as gait analysis.
Jonas Selling, Research Engineer
Charlotte Häger, Professor, Head of U-Motion Laboratory
U-Motion Laboratory video
Head of research
Overview
Publications, original papers