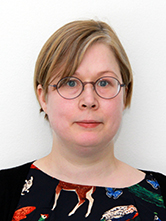 Charlott Wikström
Works at
A, Humanisthuset, HF119
Umeå universitet, 901 87 Umeå
The overall aim with my dissertation is to investigate how Fogelklous ed-utopia is expressed in a selection of her publications between 1903-1963. More specifically the aim is to, based on theoretical and methodological tools derived from theories on utopianism, do a systematic reconstruction of Fogelklou's, thinking. The central part of the thesis is to analyse Fogelklous pedagogical ideas regarding methods, didactics and teaching materials. The next step is to investigate in what way her pedagogical point of departure is linked to her epistemological and ontological starting points. Finally, it is of interest to anchor her ideas in the contemporary context, in order to get an idea in what way, if that's the case, her ideas are unique. Questions asked are as follows:

How is Fogelklou's vocation motivated?
What kind of dilemmas or problems does she address in the contemporary context?
What kind of solutions does she suggest that is the key to solve the dilemmas?
What is the final goal of her ed-utopia?
Research groups
Group member