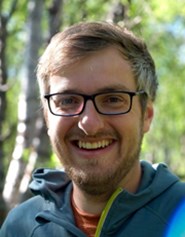 Demian Hauptmann
Doctoral student in physical geography with a focus on biogeochemistry in watercourses.
Works at
KB.H4, KBC, Linnaeus väg 6, Umeå, A4-32-15
Umeå universitet, 901 87 Umeå
My research focuses on greenhouse gas emissions from boreal streams in the context of land use and climate change. Main parts of the PhD project will involve monitoring hydrology and biogeochemistry in streams and their riparian zones before and after forest clear-cutting. By investigating hydrological and biogeochemical processes as potential drivers of the sources and pathways of carbon in streams and the riparian zone, I want to unravel how forestry (clear-cutting) and climate change affect the magnitude of greenhouse gas emissions from streams.
My research is linked to ArcticCirc (Climate Impacts Research Centre)
Research groups
Group member
Research projects
1 January 2019 until 31 December 2022