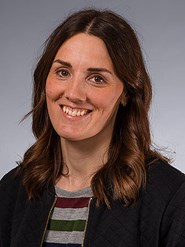 Frida Jonsson
At the heart of my research and teaching lies a practice-oriented and collaborative focus, aimed at contributing knowledge that reach those that might need and make use of it.
Contact
Works at
Research fellow at Department of Epidemiology and Global Health
5B, Målpunkt P, Försörjningsvägen 7 B, Norrlands universitetssjukhus
Epidemiologi och global hälsa, Umeå Universitet, 90185 Umeå
I have a background that falls almost exclusively within the area of public health, spanning across sub-fields such as health-related project management and evaluation (BSc), epidemiology and global health (MSc) and social epidemiology (PhD).
My research interest centres largely on how access to and experiences of health and social care can be improved for people - especially youth and elderly - who are marginalised and excluded, either from labour markets and educational systems or through their place of living in rural northern Sweden. In this regard, my ongoing research broadly focus on initiatives for young people that neither study nor work (usually referred to as 'NEETs') and rural innovations in eHealth, topics that I approach focusing on complex interventions and their implementation using the realist evaluation and synthesis methods.
Methodologically I am thus interested in and use both qualitative, quantitative and mixed methods.
Research groups
Group member
Research projects
1 January 2021 until 31 December 2023
1 January 2018 until 31 December 2020
1 January 2017 until 31 December 2019
I teach in courses at both undergraduate and master levels within the field of public health, mostly on the topics of health promotion and social theories. I also supervise both MPH and medical students.