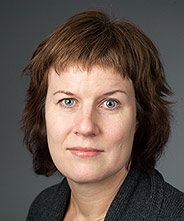 Jessika Wide
Jessika Wide is Associate Professor and appointed as Qualified Teacher. Her research interests deals with gender and politics; user influence; and elderly care and marketization.
Contact
Works at
Samhällsvetarhuset, plan 5, Umeå universitet, A5 58 25
Umeå universitet, 901 87 Umeå
Research
My research interests concern (1) gender and politics, (2) elderly care and marketization, and (3) users' participation and influence. In addition, I have a general interest in municipal politics, local democracy, social representativeness and political parties.
(1) Gender and politics
I am interested in women's political representation at the municipal level in Sweden. More precisely, I am interested in the political parties' gender quotas and candidate selection for general elections, as well as female representation in municipal councils and municipal board of directors. I contributed with an expert report about social representativeness in municipal politics to the 2014 Commission on Democracy. I have also published articles on gender equality and citizens' political participation in urban regions as well as (the absent) gender perspective in the 2008 Working Committee on Constitutional Reform.
(2) Elderly care and marketization
Currently I conduct research within the research project "With the company as a model? About municipal home care services in a marketized elderly care" (with David Feltenius). After the introduction of the Act on System of Choice (LOV) in 2009, a market has developed in many municipalities with different providers of home care services: private, public and non-profit. The question is how the municipalities work with strategies to develop the public home care services in this context. The purpose of the project is to describe and explain the design, reception and implementation of strategies for public home care services within a marketized elderly care. The project is funded by the Swedish Research Council for Health, Working Life and Welfare (Forte).
(3) Users' participation and influence
Another research interest concerns users' participation and influence in health care and elderly care by user organizations, such as pensioners' organizations and patients' organizations. This collective participation and influence is mainly taking place within users' councils, for example pensioners' councils in municipalities. I have participated in the research project "A matter of business? The participation and influence of pensioners' organizations in the marketized elderly care" (with David Feltenius, funded by the Swedish Agency for Youth and Civil Society). The aim of the project was to describe and explain the opportunities of the pensioners' organizations for participation and influence on issues related to a marketized elderly care in the municipalities.


Teaching
Since 2016, I have been placed as a qualified teacher at Umeå University.
I am responsible for courses in public administration at the Programme for International Crisis and Conflict Management, the Programme in Health Care Administration and the Programme for Social Work. In addition, I supervise and examine student theses and examination projects in political science at all levels.
Research groups
Group member
Research projects
1 January 2019 until 31 December 2021
1 January 2009 until 31 December 2012