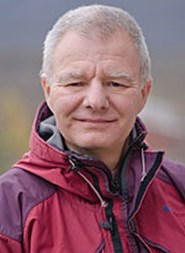 Reiner Giesler
My research is focused on the effects of climate change on biogeochemical processes in terrestrial and aquatic environments above all in arctic and boreal environments.
Works at
KBC-huset, plan 3, CIRC, Abisko och Linnaeus väg 6, Umeå, A3-16-13
Umeå universitet, 901 87 Umeå
My research focuses on biogeochemical processes in terrestrial and aquatic ecosystems with special emphasis climate change effects in arctic and boreal environments. We integrate spatial and temporal variation in stream and soil biogeochemical processes across natural climate gradients to generate knowledge that can be used to better understand how ecosystems will respond to climate change. A major research focus in recent years has been on tundra streams, with the aim of understanding and quantifying different processes involved carbon cycling and CO2 emissions. A special interest in this context is the influence of weathering as a source of dissolved inorganic carbon in high-latitude streams. Part of my research also focuses on phosphorus (P) dynamics across boreal and arctic landscape gradients with emphasis on organic phosphorus. Specifically, I am interested in how P availability may change with the on-going climate induced changes in tundra landscapes. Current and past research has involved both experimental laboratory studies, as well as broader scale studies at the ecosystem level that aim to better understand the biogeochemistry of boreal and arctic landscapes.
Research groups
Group member
Research projects
1 January 2020 until 31 December 2023