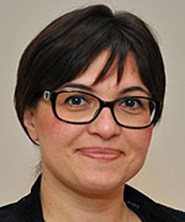 Suna Bensch
Contact
Works at
Plan 2, MIT-huset, C240
Umeå universitet, 901 87 Umeå
Research groups
Group member
Research projects
I teach theoretical foundations of computer science (5DV208 and 5DV037) including automata theory, formal languages and grammars, computability and complexity. A deep understanding of computation, abstraction, and formal reasoning is the best basis for a computer science centered career in academia or industry.
I teach scientific writing (5DV184 and "Computing Science Research Methodology, Publication and Presentation Techniques" for PhD students) including proper formation of research questions, literature review, appropriate methodology and evaluation of research results, as well as research integrity (e.g. plagiarism, academic dishonesty). Since one of the best ways to learn is by doing, the (PhD) students write scientific articles themselves in these courses.
Every year I'm part in the Human-Robot interaction course (5DV183) where I teach natural language grounding methods, i.e. how robots can use natural language to interact with humans in a shared physical environment.