Workshops
The academy has several workshops and well experienced teachers in most techniques. The starting point is each student's individual art project, therefore the school requires great needs for technical knowledge.
We have well-equipped and accessible workshops for our students. We want the students to get to know the workshops through their own needs and at their own pace. The workshops available at the school are:
Plaster workshop
Wax workshop
Clay workshop
Foundry
Metal workshop
Wood workshop
Graphics workshop
Photo lab
3D printers
Sound studio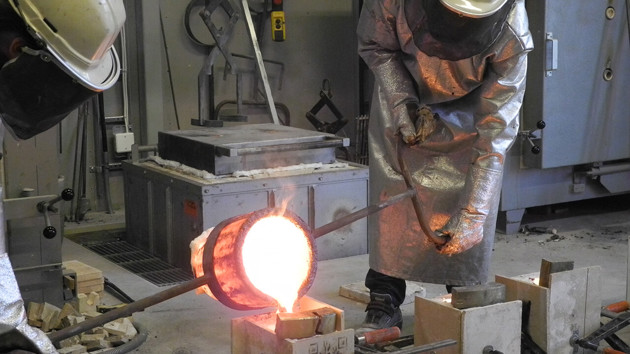 Bronze casting in the foundry at Umeå Academy of Fine Arts.
Image
Robert Djärv
Safety first
A general introduction to the workshops, focusing on safety and environmental impact, is performed at the start of every study year. Individual tutoring is required before you are allowed to work unaided. The staff responsible for the workshops evaluate the aptitude and skills of each student.
Due to the risks, working alone in the workshops is not allowed. The responsible staff informs on routines and regulations in each workshop. As a student, you sign a contract where you certify that you will follow the provisions in terms.
Only current students are allowed to use the workshops.
Materials for work
Some materials are, to some extent, available at the school, such as plaster, clay, wax and bronze. Other materials you must procure yourself, for example wood and metal. Our staff can help you with the transport of larger materials within the city of Umeå. Our workshop staff can also help you with planning as well as hanging exhibitions if you need.
Work with photos
The analog photo lab is focused on black-and-white photo development. There is a darkroom for film development and one for paper copying. There is also a post-processing room with a nice view of the river Umeälven, a digital photo lab with a flatbed scanner that doubles as a negative scanner, and a Canon printer that takes 42".
Our staff will assist you
The staff responsible for the workshops at the academy are present in the workshops on a daily basis and have a good view of the work taking place. They continuously monitor the equipment and materials used and take all necessary precautions for an in all aspects safe work to be conducted.
Latest update: 2022-12-15