Umeå Marine Sciences Centre (UMF) plays an important role in Swedish environmental monitoring. We design monitoring programmes, perform various types of sampling, analyze results scientifically and work continuously with quality assurance of results.
Design of monitoring programmes
Performing environmental monitoring is costly, and careful planning is required for the analyses to yield results. We have extensive experience in designing sampling programmes, and we are happy to attend assignments for government agencies and universities.
UMF participates in projects to develop cost-effective sampling programmes with specified scientific quality. This includes proposing what, where and how often to measure, all in order to be able to describe the function of the ecosystem and to discover changes in time and space.
UMF also participates in projects aimed at developing assessment bases for coastal and sea areas. Assessment bases are a classification system that allows you to assess whether measured values are low or high compared with original or normal range.
Defining acceptable status is a major scientific challenge, including both the creation of reference value (unaffected level) and acceptable deviation from this.
Sampling and analysis
In order to describe the environmental condition in the sea, samples must be collected and analyzed. Sampling must be carried out for many years in order to detect changes. Umeå Marine Sciences Centre (UMF) has been working on sampling and analyses since the 1980s.
UMF conducts sampling and measurements in water, sedimentary material, bottom sediments and organisms. Missionaries include the Swedish Agency for Marine and Water Management, county administrative boards along the coast of the Gulf of Bothnia, water authorities, the SMHI and the Swedish Radiation Safety Authority.
Measurements and sampling are done using standardised methods and documented traceability. This allows you to find out what numbers are reliable, and to make corrections if something is wrong. We thereby create long time series of measurement data with good comparability both in time and with other laboratories. The operations are accredited by Swedac.
Databases and quality assurance
Measurement data is quality checked according to established routines in the accreditation system of Umeå Marine Sciences Centre (UMF) before it is added to the UMF databases.
At UMF, mainly two databases are used for data storage; the web-based database dBotnia for storing data from water sampling and Beda, a database for storing data from the sampling of benthic fauna. Data is delivered quality assured to national databases.
Scientific evaluation
Data from sampling can be used to detect changes in the marine environment, and to develop effective measures against environmental problems. The results are used to show how well Sweden achieves the agreed environmental quality goals. Evaluation work is carried out in close cooperation with ongoing research.
Data that has been collected and quality assured is used to assess the environmental status. Analyses of time and space are performed to detect and describe changes. We work on different spatial scales, from water bodies to larger sea areas.
To identify causes for changes in the marine environment and propose effective measures, a variety of variables are required, such as the occurrence and growth of organisms and nutrient and oxygen levels. In the evaluation work, results are combined from several different monitoring programmes, so that a full picture of the environmental condition is created.
The results form a scientific basis for Swedish and international environmental status reports.
Our assignments
Our assignments are funded by Swedish authorities. The assignments comprise scientific design of monitoring programmes, sampling and scientific evaluation and reporting of data. The work results in marine environmental status reports and scientific counselling to marine authorities.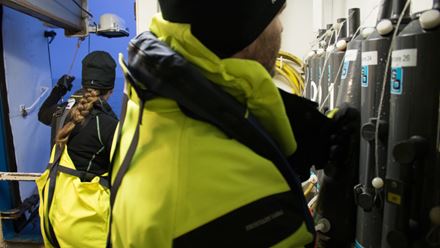 Environmental analysts
Specialists in marine chemistry, biology and environmental monitoring.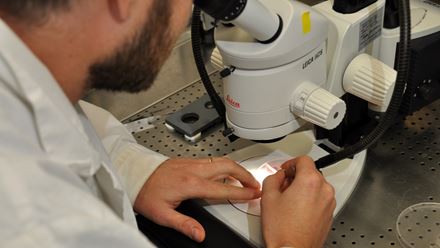 Taxonomists
Specialists in phytoplankton, zooplankton and benthic animals.