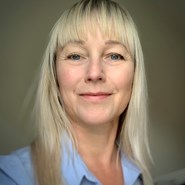 Camilla Hällgren
Jag arbetar som docent i pedagogiskt arbete vid Institutionen för tillämpad utbildningsvetenskap.
Kontakt
Verksam vid
Naturvetarhuset plan 3, huskropp NB, Johan Bures väg 16
Umeå universitet, 90187 Umeå
I work as associate professor at Umeå University in Sweden where I focus my research on identity, social issues and contemporary digital media. I teach and supervise on graduate, master and doctoral levels.



For over ten years I have deepened and expanded my empirical and theoretical work at the intersection of social values, identity, contemporary media and education, but still I maintain my position as a researcher within a norm-critical tradition. I also work as professional artist and sice 2010 my artwork is represented at a large number of public institutions in Sweden, e.g. The National Public Art Councils, museums and several municipalities and county councils. Both my research and artwork combine in the aim of deepen understandings about the human condition.
Under the umbrella of Crowdsourcing Identities, I explore the making of identity and contemporary, digital technology from a perspective of existentialism and social constructivism. This work is both conceptual and empirical. The aim is to widening the understanding of digital technology as a condition for identity making. How can a relationship between identity and digital technologies be understood and conceptualized? How is identity made, mediated and reified by digital technologies - and not only represented? How can the making of identity in conditions proposed by contemporary, digital technology be understood from perspectives of existentialism, social constructivism and intersectionality? And, what do young people learn about their being, becoming and belonging in their use of digital technologies?
I have also conceptualised my combination of art and research into what I call Art Blended Research (Hällgren 2015). Basically, Art Blended Research is an approach to making knowledge. It draws on the insight of that there is more to see than meets the eye. The strength of this approach, however, does not lie in the ability to explain what is. Instead, the strength of Art Blended Research is found in possible explorations and inspirations of what might be.
My experiences from multimodal research methods and aesthetic learning processes contributed to important insights about alternative ways for doing research. One significant insight was that multiple layers of knowledge could be of great importance if the aim is to explore and learn about complexities such as identity making and gendered dimensions of that making. From my work as researcher and artist it stands clear to me that there are several ways to explore and understand our world. Art has the potential to instantly make us see the world differently and offer multiple viewpoints of our world and as such it can be used in a norm-critical and pedagogical dialogue.
Forskargrupper
Gruppmedlem