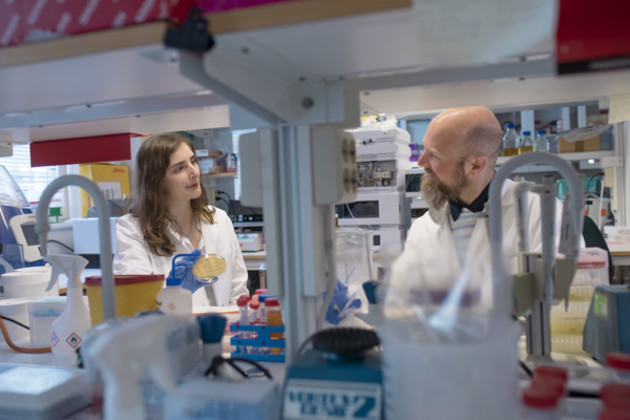 Image
Mattias Pettersson
Fabiola Puertolas Balint, PhD student in the Schröder lab (on the left) and Björn Schröder, MIMS Group Leader (on the right) in the lab.
---
Current job opportunities
Group Leaders in Data-Driven Epidemiology and Biology of Infection
The subject area concerns research in the general area of epidemiology and biology of infection with a strong computational profile. This research area aims to lead to innovative development and/or application of novel data-driven methods relying on machine learning, artificial intelligence, or other computational techniques to transform our understanding of pathogens, their interactions with hosts and the environment, and how they are transmitted through populations.
This recruitment is part of the Data-Driven Life Science (DDLS) national program by the Knut and Alice Wallenberg Foundation and SciLifeLab. For more information about DDLS, visit their website here.
Application deadline: 15 October 2023
"Excellence by Choice" Postdoctoral Programme in Life Science
The two Swedish Centres of Excellence – Umeå Centre for Microbial Research (UCMR) and Umeå Plant Science Centre (UPSC) – at Umeå University are currently running the 'Excellence by Choice' Postdoctoral Programme in Life Science offering a highly interactive and multidisciplinary research environment.
The programme aims to encourage new synergies in life science with a focus on molecular and translational research, train outstanding young researchers, and stimulate cutting-edge research in Umeå. Patron for the programme is Nobel laureate Emmanuelle Charpentier, who discovered the CRISPR-Cas9 gene editing technology during her time as a scientist and group leader in Umeå.
In this third call, seven postdoctoral fellowships are open to all nationalities.
Application deadline: 29 October 2023
Two postdoctoral researcher positions are available in the group of Felipe Cava
The offered positions are for 1) a postdoctoral researcher in microbiology, and 2) a postdoctoral researcher in data-driven antimicrobial-resistance research.
Applications are evaluated continuously.
---
Working at Umeå University
Umeå University is one of Sweden's largest higher education institutions with over 37 000 students and about 4 700 employees. The University offers a diversity of high-quality education and world-leading research in several fields. And the groundbreaking discovery of the CRISPR-Cas9 gene-editing tool, which was awarded the Nobel Prize in Chemistry, was made here. At Umeå University, everything is close. Our cohesive campuses make it easy to meet, work together and exchange knowledge, which promotes a dynamic and open culture.
The ongoing societal transformation and large green investments in northern Sweden create enormous opportunities and complex challenges. For Umeå University, conducting research about – and in the middle of – a society in transition is what it is all about. But also about delivering education to enable regions to expand quickly and sustainably. This is simply where the future is built.
Are you interested in learning more? Read about Umeå university as a workplace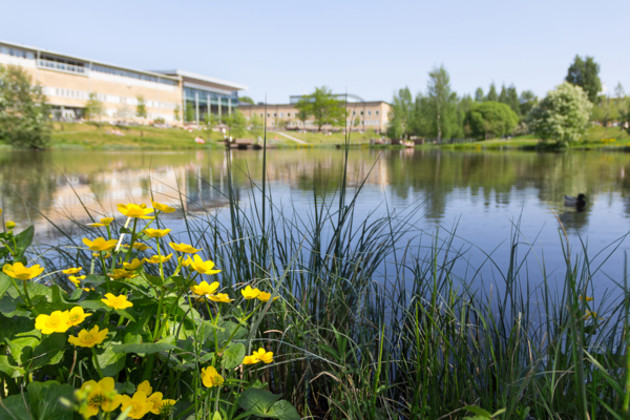 Image
Erik Vesterberg

Umeå University campus during summer.
Nordic EMBL Partnership for Molecular Medicine