Bildmuseet names new museum director
NEWS Katarina Pierre has been selected to lead Bildmuseet – Umeå University's contemporary art museum – in the ongoing large investment at Umeå Arts Campus. Bildmuseet and its new director are facing quite an exciting period ahead.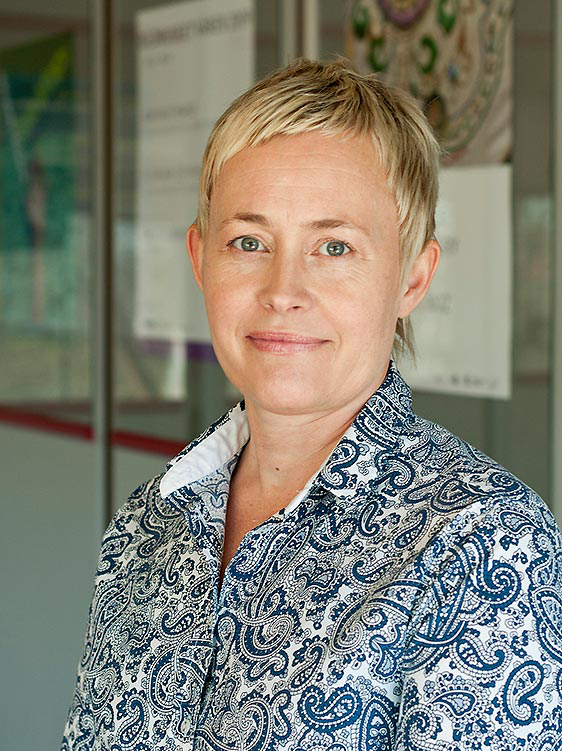 A fantastic museum building designed by Henning Larsen Architects is currently under construction by the banks of the Umeå River at Umeå University's expanding Umeå Arts Campus.
"Bildmuseet is a unique art institution and it feels fantastically exiting - a privilege - to head the work leading up to the move and new investments at Umeå Art Campus," says Katarina Pierre.
Katarina Pierre was born in 1962 and has a Master of Arts in Contemporary Art Theory from Goldsmith´s College in London, UK. Since 1995, she has worked at Bildmuseet as a curator, and most recently as temporary acting director.
"Bildmuseet and Umeå Arts Campus are very important for the future of the Faculty of Arts and Umeå University," says Britta Lundgren, dean of the Faculty of Arts. "With her experience and vision, Katarina Pierre will contribute towards an exciting and interesting development with the focus on art."
Lena Gustafsson, Vice-Chancellor of Umeå University believes this is a new era for the museum."We are now in a tremendously exciting, important and dynamic phase in the history of Bildmuseet."
She continues to say, "I am fully confident that Katarina, with her great expertise and extensive experience, will advance its development. We are striving towards the European Capital of Culture in 2014, but development of Bildmuseet and Umeå Arts Campus is much more long-term."
During her years working at Bildmuseet, Katarina Pierre has helped oversee a large number of international collaborations that have resulted in highly acclaimed exhibitions, including most recently, Walid Raad: Miraculous Beginnings, which ended last week. Sara Jordenö: Diamond People, Zineb Seidra: In the Sky and Over the Sea, Lost and Found: Queerying the Archive, Florian Zeyfang: Slow Narration Moving Still, Isaac Julien: True North are examples of other international and Swedish contemporary art exhibitions that she has produced.
Among the art projects that Katarina Pierre has initiated and carried though are Visual Cultures in Dialogue, an exchange program with South African universities and cultural institutions, including South African National Gallery. Together with artist/architect Apolonija Sustersic, she worked on the project The Relational Museum with questions about the art museum as social and public space. She was also the project manager for Urban Concerns, a curator and artist exchange programme that was held in collaboration with the Johannesburg Art Gallery.
Bildmuseet opened in 1981 and the museum is an affiliate of Umeå University
Bildmuseet homepagePress image of Katarina Pierre (click Aktuella pressbilder)Press image of the new Bildmuseet at Umeå Arts CampusRead more about Umeå Arts Campus
Contact information
Katarina Pierre, newly appointed Director of Bildmuseet at Umeå University
email: katarina.pierre@bildmuseet.umu.se
Mobile: +46 (0)70-643 33 72
Editor: Helena Vejbrink / David Meyers