Research infrastructure UMeHealth is is a regional competence centre for research, education and collaboration on intelligent, person-tailored eHealth interventions, behaviour change systems and decision support. UMeHealth strives to be a cross-disciplinary meeting point that transcends knowledge domains and engages citizens in developing their future digital tools for improving health and wellbeing.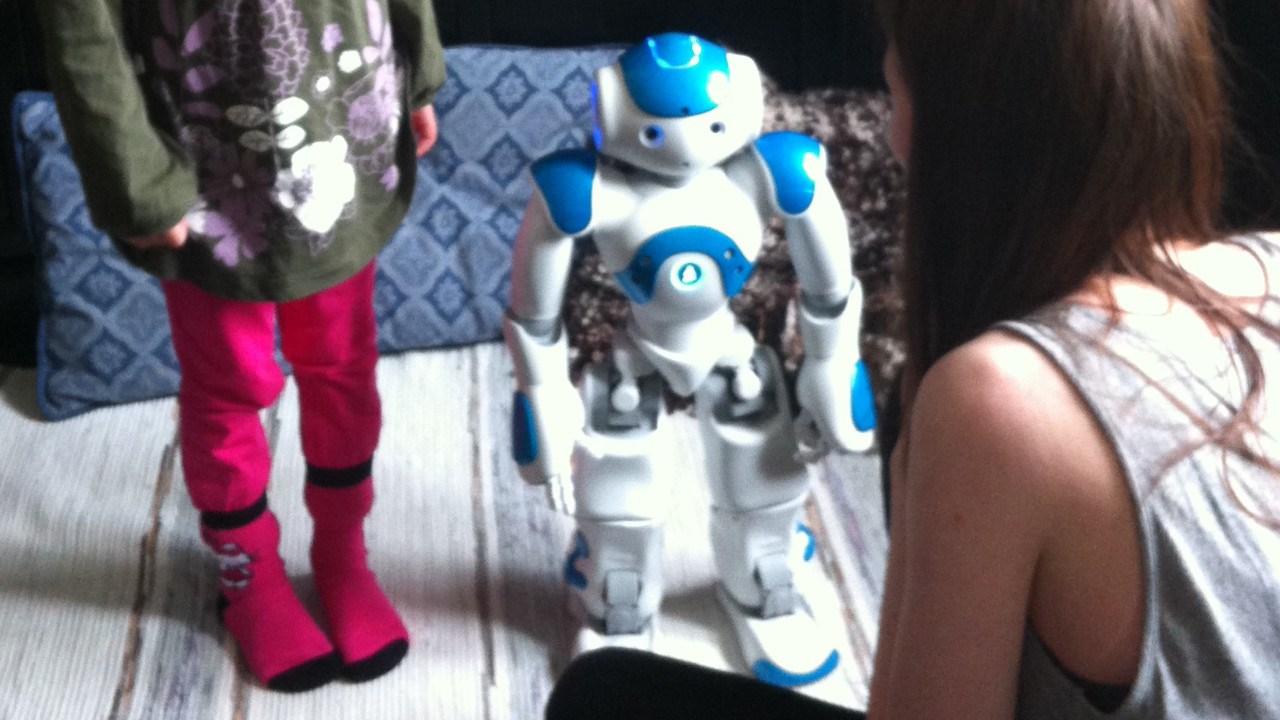 NAO-robot with children.
Image
Helena Lindgren
Welcome to attend the UMeHealth Workshop 2021, on April 20, 11.00-14.10
UMeHealth 2021 is the fourth workshop on eHealth research organised by the Umeå University network on eHealth (for more information, see https://www.umu.se/forskning/infrastruktur/umehalsa/).

Ongoing research related to eHealth will be presented, this year primarily by doctoral students from across Sweden who are attending a doctoral course on AI and eHealth. During lunch time we are happy to host a keynote presentation by Professor Virginia Dignum, Umeå University with the title "Developing and Using AI Responsibly: From Principles to Action".

Welcome to join using the following zoom link:
https://umu.zoom.us/j/67324807503
See program for UMeHealth 2021.
For questions, please contact Helena Lindgren or Marlene Sandlund.
Research and education in eHealth
Future digital tools for preventing diseases, increase wellbeing, diagnose and treat different medical conditions will to large extent be based on new technology such as artificial intelligence (AI) and interaction technologies that bridges distances and borders between physical and digital environments.
UMeHealth conducts research on decision support, behavior change technology and digital interventions that are personalized, preventive, predictive, knowledge and evidence-based, and developed through participatory design methodologies. This means that citizens and professionals in the daily clinical practice actively contribute to and participate in research and development of new health-promoting digital tools. This is done in collaboration with Region Västerbotten and other organisations in society, e.g., patient interest organisations.
Research and education in medical informatics and eHealth has been provided by Umeå University more than 20 years and is engaging increasing number of researchers. UMeHealth has since its initiation in 2015 addressed the need for a multidisciplinary research environment that spans across organisational, faculty and discipline borders, and that can function as infrastructure for research, education and collaboration in eHealth. The environment engages around 100 employees at the different faculties at Umeå University and Region Västerbotten.
In order to achieve person-tailored, adaptive interventions, often methods from the AI field need to be developed and applied, and technologies developed and evaluated. Therefore, UMeHealth consists of a theme environment that organizes seminars and workshops (Theme eHealth) and of laboratory environments, partly developed and built in collaboration with Region Västerbotten. These are used for developing new eHealth interventions together with users and test these.
UMeHealth also supports development of cross-faculty education in eHealth on different education levels. A course on AI-based eHealth for doctoral students has been developed.
Theme eHealth, Projects and Labs
UMeHealth is one of Umeå University's research infrastructures and is leaded by Umeå University researchers from different areas and by representatives from Region Västerbotten.
Steering Group - Council for eHealth
Göran Larsson, Head of Research and Development, Region Västerbotten
Emil Forsberg, Umeå municipality
Åsa Hörnsten, Professor at Department of Nursing, Umeå University
Per Hallberg, Head of Unit, MT-FoU, Region Västerbotten
Helena Lindgren, Coordinator UMeHealth, Associate professor at Department of Computing Science, Umeå University
Andreas Lundqvist, Head of Unit, Rural Medicine Centre, Region Västerbotten
Ingeborg Nilsson, Professor at Department of Community Medicine and Rehabilitation, Units: Occupational Therapy, Umeå University
Marlene Sandlund, Senior lecturer at Department of Community Medicine and Rehabilitation, Units: Physiotherapy, Umeå University
Tobias Stenlund, Postdoctor at Department of Community Medicine and Rehabilitation, Units: Physiotherapy, Umeå University
Karin Wadell, Professor, clinical at Department of Community Medicine and Rehabilitation, Units: Physiotherapy, Umeå University
Sara Winqvist, Head of eHealth department, Region Västerbotten