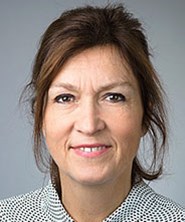 Maria Rönnlund
Associate professor in Educational Work working within the field of sociology of education in areas such as democracy, citizenship, gender and identity. I am also working in spatial perspectives on education.
Works at
Naturvetarhuset, huskropp NB, Johan Bures väg 14
Umeå universitet, 90187 Umeå
Ongoing research projects
Teaching and Learning in the Active Learning Classroom Project leader: Maria Rönnlund Finansier: Umeå School of Education. Project time: 2017-2020 Participants: Åse Tieva (UMU), Peter Bergström (UMU)
Integration of newly arrived immigrants in sparsely populated areas through Komvux, SFI and HE through local municipal centers (Lärcentra) Project leader: Per-Åke Rosvall Finansier: Familjen Kamprads stiftelse. Project time: 2018-2020. Participants: Sara Carlbaum (UMU), Maria Rönnlund (UMU).
Critical education in vocational subjects? Civic knowledge in vocational programmes, policy documents and classroom practice? Project leader: Per-Åke Rosvall Finansier: Swedish Research council Project time: 2016-2020 Participants: Mattias Nylund (GU), Kristina Ledman (UMU), Maria Rönnlund (UMU)
Rural youth. Education, place and participation Project leader: Elisabet Öhrn (GU) Finansier: Swedish Research council Project time: 2014-2018. Participants: Monica Johansson (GU), Dennis Beach (GU), Maria Rönnlund (UMU), Per-Åke Rosvall (UMU). This project takes its starting point in the current dominance of urban studies in contemporary educational research and addresses the need for more knowledge about young people in rural contexts. This need is emphasized by research indicating that rural youth are, contrary to what is often assumed, experiencing rather severe problems with social exclusion. For instance, research shows that it is mainly young people from outside metropolitan regions who express a lack of involvement in Swedish society and a lack of confidence in the government and in parliament. The project will therefore aim to develop an understanding of youth and their agency in different contexts by focusing especially on rural schools. It asks what it is that distinguishes and unites young people´s social inclusion and participation in rural and urban schools and how schools in different places address their opportunities to work with social inclusion. The empirical study will include a total of six rural secondary schools and two urban ones. One class will be selected for ethnographic fieldwork from each school. Observations of teaching content and interactions, and interviews with young people will be the main data sources.
The sport club as an environement for democratic fostering Project leader: Jonny Hjelm (UMU) Finansier: Centrum för idrottsforskning Project time: 2013-2017 Participants: Sofia Isberg (UMU), Maria Rönnlund (UMU)
Finished projects
The Swedish Schoolyard's cultural history 1611-2011: The school's outdoor environment as pedagogical and social space
Project leader: Anna Larsson (UMU) Finansier: Swedish Research council Project time: 2012-2016 Participants: Björn Norlin (UMU), Maria Rönnlund (UMU)
Doctoral thesis
Democracy and participation. Pupils' influence in lower secondary schools from a gender perspective (Rönnlund, 2011)
Networks
Nordic Centre of Excellence: Justice through education in the Nordic countries (JustEd), coordinated by Professor Gunilla Holm, University of Helsinki, Finland. http://www.nordforsk.org/en/programs/prosjekter/nordic-centre-of-excellence-justice-through-education-in-the-nordic-countries?set_language=en
Design, Research and Practice in Educational Spaces, coordinated by Professor Ulrike Stadler Altmann, Libera Università di Bolzano/Freie Universität Bozen, in Brixen/Bressanone, Italy
Space for Learning, coordinated by Professor Lisbeth Lundahl, UmU.
Young people's education, career development and welfare, coordinated by Professor Lisbeth Lundahl, UmU.
Research groups
Group member
Research projects
1 January 2016 until 30 December 2020