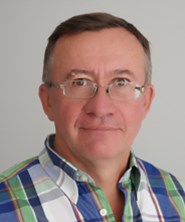 Oleg Popov
Oleg Popov is Associate Professor in physics education. His research interests lie in the field of intercultural science education, curriculum development and learning in different contexts.
Contact
Works at
Naturvetarhuset, huskropp A, plan 5, Johan Bures väg 16
Umeå universitet, 901 87 Umeå
I have more than 30 years of experience of working in the fields of teacher education and curriculum development in different countries. I graduated as a high school teacher of physics and mathematics in 1981and directly after that started my professional carrier as an assistant-lecturer at my alma mater - the PedagogicalUniversity in Blagoveshchensk, Russia. After finishing my PhD in theoretical physics in Moscow in 1986 I went to Africa in 1989 to work as a curricular adviser in physics education at the National Institute for Educational Development and lecturer-consultant in theoretical physics at the Pedagogical University in Maputo, Mozambique. Since 1994 I live and work in Sweden continuing an active international collaboration.
During the five years 2003-2008, I was a Deputy Head of the Department of Science and Mathematics Education at Umeå University responsible for research and research training. I combine a course development activities and teaching at undergraduate and graduate levels for on-campus and distance students with an active research work. My main research interests are in the field of intercultural science education, curriculum development and learning physics in different contexts. I published over hundred academic texts in these areas. Recently, I wrote a book on developing innovative methods of teaching scientific inquiry for prospective science teachers using outdoors environment. My theoretical interests are on application of Cultural-Historical Activity Theory originated in works of Vygotsky and curriculum theories in science education. I supervised several PhD students and dozens of undergraduate research projects.
I was involved in national curriculum development projects and teaching of Masters and PhD students in different countries around the globe, for example, Namibia, Guinea-Bissau, East-Timor, Cambodia, and Laos. I worked as a guest professor at Tokyo Gakugei University in Japan, visiting associate professor at the National Institute of Education (NIE) in Singapore and as guest scholar at University of South Africa (UNISA) and Federal University of Bahia (UFBA) in Brazil. Through my academic work and consultancy assignments for Sida and UNICEF I have visited in different work missions over fifty countries around the world.
My private interests are in reading ethnographic and philosophical literature, playing badminton and hiking. I use freely as working languages Russian, Swedish, English and Portuguese.