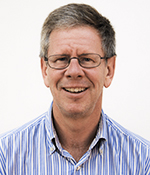 Steven Nordin
I work as a professor in psychology and conduct research and teach in medical psychology health psychology, psychosomatics and research methodology.
Works at
Hus Y, Beteendevetarhuset, Vindarnas torg, Mediagränd 14, C-217
Umeå universitet, 901 87 Umeå
I work as a professor in psychology at the Department of Psychology at Umeå University where I conduct research, teach and supervise graduate and undergraduate students. My background is in neuropsychology and sensory psychology, and my expertise is in the fields of medical psychology, health psychology and psychsomatics from a public health perspective. The research is conducted primarily with laboratory and epidemiological methods, and to some extent also with qualitative methods. My teaching regards for the most part research methodology and health psychology. At present I conduct research in the fields:
• Environmental hypersensitivities and other functional somatic syndromes
• Mental ill-health
• Risk factors for cardiovascular disease
• Asthma and allergy
• Aging and dementia
I completed my PhD studies in psychology at Stockholm University in 1992, and have also been working with research at the Karolinska Institute, the University of California, San Diego and San Diego State University.