Learning and Writing in a Second Language
NYHET Justin Zelime comes from the Seychelles, a small island nation of 85 000 people on the coast of Eastern Africa. He has been teaching students aged 12 to 16 years as well as aspiring teachers. In 2007 he completed his Masters Degree in English Language Teaching at the University of Warwick and in the autumn of 2014 he left the University of Seychelles to start his PhD in language teaching and learning at Umeå University.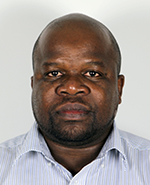 What will you be studying here in Umeå?
– My thesis is called Learning and Writing in a Second Language – Challenges and solutions with special focus on policy questions, learning, teaching, and examination: the case of the Seychelles. The choice of medium of instruction (MoI) in education is an important policy question that can have an impact on the teaching and learning processes. Research has shown that teaching a child in his or her first language provides the best chance of educational success. However, in many parts of sub-Saharan Africa and Asia where there is a colonial legacy the MoI is a second language instead. This has led to various problems such as educational inequity, substandard teaching practice, low literacy skills, poor overall performance, among others, some of which being evident in the Seychelles where the MoI is English and where my PhD research project will be carried out.
Why did you choose this particular subject for your thesis?
– Over the years while I was a secondary teacher I witnessed the many difficulties that learners encounter in writing, especially in English. Talking to other colleagues across the curriculum I discovered that the problem was not only in the English classroom but in other subjects as well. In fact for the last eight years, English has had the lowest average score in primary six national exam results. I feel that the time has come for some empirical evidence to be collected and possible solutions to be discussed, proposed, and eventually implemented.
Why is this important research?
– The potential findings of my research may be highly relevant to many other African and postcolonial countries which have adopted English as a MoI and where writing skills are important for academic success. It may also inform policy makers in the Seychelles and elsewhere about the complex nature of teaching and learning of writing in a multilingual context.
Do you have any thoughts about the future?
– I would like to go back to the Seychelles and present my research findings to those people who are directly or indirectly affected by the issues that are raised in it. They would consist of policy makers, members of the Ministry of Education, teachers, parents and fellow colleagues. I would also like to strengthen the position of the University of Seychelles in terms of staff capacity and research. Most importantly I would like to teach at undergraduate and Master's level to impart the knowledge and skills that I will have acquired over my four years of being a doctoral student. Eventually I would like to engage in postdoctoral studies in order to keep the research culture alive and strong for both personal and institutional reasons.
Redaktör: Veronica Wiman Nilsson