Philomena Essed make us see the processes behind discrimination
NYHET Philomena Essed, Professor in Critical Race, Gender and Leadership Studies at Antioch University, USA, has received Honorary Doctorate at the faculty of social science at Umeå University. She will participate in the annual celebration and speak at the open lectures this weekend. Hear the professor who coined the expression "everyday racism" and "gendered racism" talk about the processes behind discrimination, Saturday, Social Science Building, lecture hall D at 11.10 AM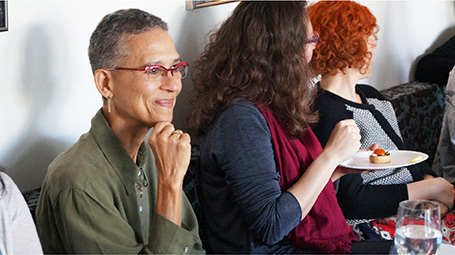 Philomena Esseds research stretches over national, empirical and methodological fields and is in many ways interdisciplinary as she include both critical race theory, gender theory and post-colonial theory. She has, with young women's everyday experiences as a benchmark, studied the processes that creates racialization and discrimination today and this is what the seminar this weekend is going to be about.
Since 2013 she has been a guest professor at the department of education, where she has been focusing on the development on gender-pedagogical research and education. She took an active part and contributed substantially in the international reference group for the research programme Challenging Gender 2007-2012, at Umeå Centre for Gender Studies. In 2014, she was one of the keynotes national gender conference "g14 - Challenging Power" last year.
In addition to her academic work, Philomena Essed has a life-long commitment to social justice and has been advisor to governmental and nongovernmental organizations, both nationally and internationally. The year of 2011 she was awarded honorary doctorate at the University of Pretoria in South Africa. Philomena Essed is an expert witness on race, gender, and racism in Europe and has been called upon to participate in hearings held by The European Parliament, and The United Nations Economic and Social Council.
Redaktör: Emma Skog